G+
Here's a handy quick reference with common things you should know about Google+, like how to prevent a post from being shared and hotkeys for more quickly navigating conversation streams. We love shortcuts and cheatsheets, and have been digging Google+ lately, so this reference created by Google+ user Simon Laustsen is pretty neat. It's already been translated into a dozen languages . As the cheatsheet says, you can help add more tips and tricks by sending Simon a message at his G+ page. Here's the full image (right-click to save it to your desktop):
The Google+ Cheatsheet Is a Quick Reference To Using Google+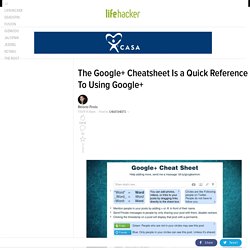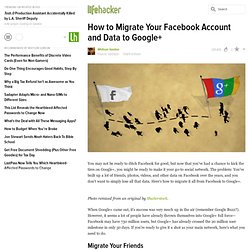 You may not be ready to ditch Facebook for good, but now that you've had a chance to kick the tires on Google+, you might be ready to make it your go-to social network. The problem: You've built up a lot of friends, photos, videos, and other data on Facebook over the years, and you don't want to simply lose all that data. Here's how to migrate it all from Facebook to Google+. Photo remixed from an original by Shutterstock . When Google+ came out, it's success was very much up in the air (remember Google Buzz?).