Future Tech
Russia To Adopt Universal ID Card in 2012. 2012 will be the year of universal ID cards in Russia.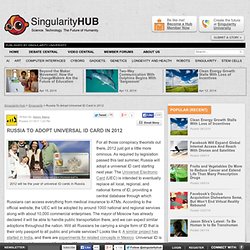 For all those conspiracy theorists out there, 2012 just got a little more ominous. As required by legislation passed this last summer, Russia will adopt a universal ID card starting next year. Contact Lens? Or...Mouse?? Contact Lens Kinda Makes You Cyborgy This one's kinda hard to swallow so take a deep breath, open your minds, and pretend it's 2100.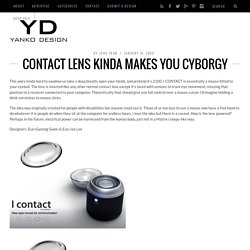 I CONTACT is essentially a mouse fitted to your eyeball. The lens is inserted like any other normal contact lens except it's laced with sensors to track eye movement, relaying that position to a receiver connected to your computer. Theoretically that should give you full control over a mouse cursor. Electronic Contact Lenses. A new generation of contact lenses built with tiny circuits and LEDs could make bionic eyesight a reality.
Researchers at the University of Washington in Seattle have created contact lenses with built-in electronics and an LED, powered wirelessly by RF. "These lenses don't give us the vision of an eagle or the benefit of running subtitles on our surroundings yet," University of Washington professor Babak Parviz writes in IEEE Spectrum. Terraforming. Transplanting seas to inland ocean lakes?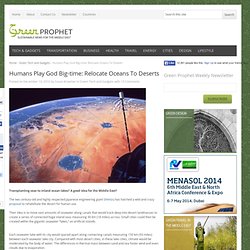 A good idea for the Middle East? The two century-old and highly respected Japanese engineering giant Shimizu has hatched a wild and crazy proposal to rehabilitate the desert for human use. Their idea is to move vast amounts of seawater along canals that would track deep into desert landmasses to create a series of connected huge inland seas measuring 30 km (18 miles) across. Small cities could then be created within the gigantic seawater "lakes," on artificial islands. Each seawater lake with its city would spaced apart along connecting canals measuring 150 km (93 miles) between each seawater lake city. How Technology Will Transform Us. Shanghai: 1990 | 2010. The Future of Aging.
---