College
RWTH Latex Theme | x:template a professional PHP template engine
S-INF.de - Skriptesammlung Informatik RWTH Aachen
Speed Reading Training: Über das Subvokalisieren - Lern-Tipps von Akademie & Verlag Grüning
Universität Innsbruck
During the course of our lives we keep learning new things, but all of the areas in which we could be learning are not the same.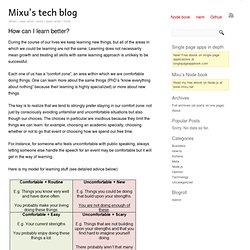 How can I learn better? « Mixu's tech blog
Schüler und Studierende – Fraunhofer-Gesellschaft
In den Talent-Schools bieten Fraunhofer-Wissenschaftlerinnen und -Wissenschaftler technisch interessierten Jugendlichen, die Freude an der Auseinandersetzung mit aktuellen wissenschaftlichen Problemstellungen haben, verschiedene Workshops an. Abendliche Gespräche mit Fraunhofer-Führungskräften geben einen Einblick in den Alltag der Forscher sowie in den nationalen und internationalen Wissenschaftsbetrieb.