Art
Cat Facts and Trivia. Favourite Cat Quotes through Time. Man has always been intrigued and fascinated with the cat so it's not surprising that there are so many cat-related quotes throughout time.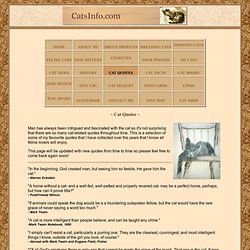 This is a selection of some of my favourite quotes that I have collected over the years that I know all feline lovers will enjoy. This page will be updated with new quotes from time to time so please feel free to come back again soon! "In the beginning, God created man, but seeing him so feeble, He gave him the cat. "- Warren Eckstein.
Cute Art. Interactive Art. Pretty Art. Funny Art. Music. Quotes.
---