Plus Size
Black Cat Plus
shop plus size fashion at debshops.com
Monif C. contemporary plus size clothing, plus size dresses, plus size swimwear for women sizes 14-24 - Monif C - Monif C
Sydney's Closet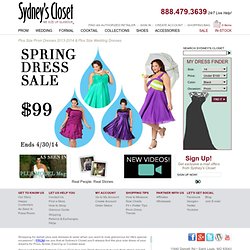 Shopping for stylish plus size dresses to wear when you want to look glamorous for life's special occasions? I PROM-ise you that at Sydney's Closet you'll always find the plus size dress of your dreams for Prom, Bridal, Evening or Cocktail wear. We've just debuted Sydney's Closet 2014 plus size Prom dresses to buyers from stores around the world. They love the trendy designs and must-have colors. Our 2013 Homecoming plus size dresses scored a fashion victory with short styles in red and purple a big hit!
Mi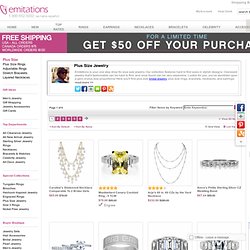 Emitations is your one stop shop for plus size jewelry. Our collection features hard to find sizes in stylish designs. Oversized jewelry that's fashionable can be hard to find, and once found can be very expensive. Luckily for you, you've stumbled upon a gem of plus size proportions! Here you'll find plus size bridal jewelry, plus size rings, bracelets, necklaces, and earrings. Our collection of large size jewelry will astound you.
Plus Size Jewelry
Plus Sized Tights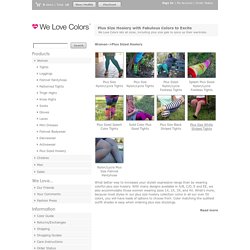 What better way to increases your stylish expressive range than by wearing colorful plus size hosiery. With many designs available in A/B, C/D, E and EE, we also accommodate those women wearing sizes 1X, 2X, 3X, and 4X. What's more, because most styles in our plus size hosiery collection come in all our over 50 colors, you will have loads of options to choose from. Color matching the subtlest outfit shades is easy when ordering plus size stockings. Read more
599fashion.com
Alight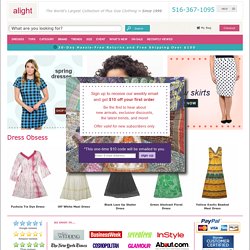 alight's selection of plus size clothing and apparel for women and teens is one of the largest on the internet. We carry over 1000 unique items from over 75 brands. Our buyers shop the globe for the most interesting and fashion right clothing. Many of the items on our site are made exclusively for alight. Our assortment of plus size blouses, shirts and tops includes a wide range of boleros, shrugs, cardigans, tunics, knit tops, sweaters, prints and solids in a rainbow variety of colors. Our plus size bottoms are the perfect complement for our tops.
Trendy Plus Sized Clothes and Dresses for Women - Sizeappeal
At Simply Be, you'll find the latest plus size fashion clothing available in sizes 10-28. From plus size jeans and dresses to trendy tops, Simply Be's women's clothing features fashionable outfits for every occasion. Find fabulous plus size dresses including cocktail dresses and sundresses. Also shop our great selection of plus size jeans from curve-loving skinny jeans to figure-flattering bootcut jeans. We also carry a fabulous line of wide width shoes for women and other trendy accessories.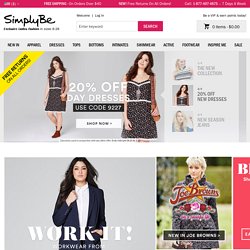 Simply Be
Ashley Stewart
Fashion To Figure
Sealed With A Kiss Designs
Style 369
Domino Dollhouse - Plus Size Clothing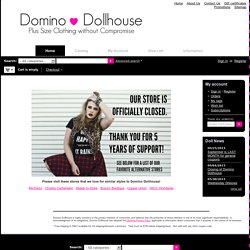 Domino Dollhouse is highly sensitive to the privacy interests of consumers and believes that the protection of those interests is one of its most significant responsibilities. In acknowledgment of its obligations, Domino Dollhouse has adopted the following Privacy Policy applicable to information about consumers that it acquires in the course of its business. * Free shipping is ONLY available for US shipping/domestic customers. Total must be $150 before shipping/taxes.
Kiyonna
Plus Size Shop by Brand at OneStopPlus.com
Figuresque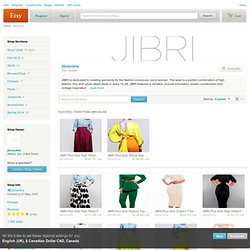 JIBRI is dedicated to creating garments for the fashion conscious, curvy woman. The label is a perfect combination of high fashion chic and urban street sleek in sizes 10-28. JIBRI features a variation of punk innovation, classic construction and vintage inspiration. Please sign up for my mailing list at www.jibrionline.com (contact us field) if you wish to receive updates on the line (including promotions and sales).
Jibri Online by jibrionline on Etsy
Squidoo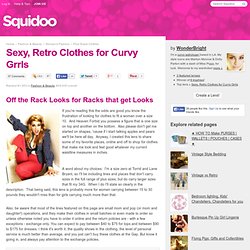 Trashy Diva has become quite taxing to my pocketbook... Candice Gwinn, the woman who owns the shop basically remakes and recreates beautiful patterns and prints from the thirties through the fifties in high quality silks, cottons, and rayons. Her clothes are unbelievably beautiful and so well made my tailor, Dina, comments on them every time I come in with a piece to be re-hemmed, taken in, or have the buttons re-threaded. I mean, check me out in the Audrey blouse! Joan Holloway, here we come! I'm also wearing their gorgeous Slim Pencil skirt, although I had it altered to fit me through the hips.
Team Estrogen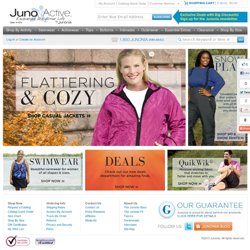 Juno Active is dedicated to providing plus size clothing for active women in size 14 and up. Juno Active specializes in high quality clothes with a great fit for plus size women. Our wide variety of clothing includes plus size swimwear, outerwear, underwear, tops, bottoms, bras, panties, dresses and skirts. We believe that plus size women deserve good quality, fashionable clothing. The Juno Active website is unique in encouraging the plus size woman to "Embrace Your Active Life."
Junonia.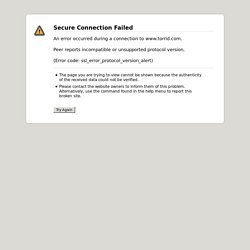 Torrid
Offer available online and in stores. LIMITED TIME ONLY. Applies to clearance merchandise only.
dressbarn
Igigi