Helpful Tips
List of companion plants. This is a list of companion plants.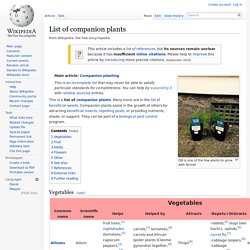 Many more are in the list of beneficial weeds. Companion plants assist in the growth of others by attracting beneficial insects, repelling pests, or providing nutrients, shade, or support. 15 Homemade Organic Gardening Sprays and Concoctions That Actually Work" Back when I started my first garden, a certain celebrity gardener and his books of gardening concoctions were all the rage.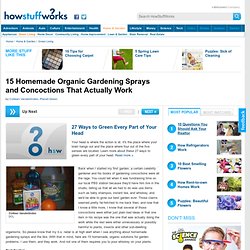 You could tell when it was fundraising time on our local PBS station because they'd have him live in the studio, telling us that all we had to do was use items such as baby shampoo, instant tea, and whiskey, and we'd be able to grow our best garden ever. Those claims seemed pretty far-fetched to me back then, and now that I know a little more, I know that several of those concoctions were either just plain bad ideas or that one item in his recipe was the one that was actually doing the work while the rest were either unnecessary or possibly harmful to plants, insects and other soil-dwelling organisms. So please know that my b.s. radar is at high alert when I see anything about homemade gardening sprays and the like.
With that in mind, here are 15 homemade, organic solutions for garden problems. I use them, and they work. Deer Repellent Recipes For Homemade Deer Repellent. If you have a successful repellent recipe or technique, please share it with other gardeners.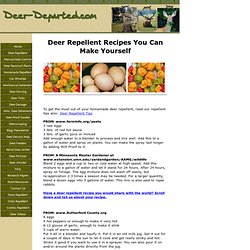 Please tell us about you, your plants, your deer, and your recipe. Click below to see contributions from other visitors to this page... Lists of Deer Resistant Plants For A Deer Proof Landscape. Have you found other plants that deer rarely damage or seldom eat?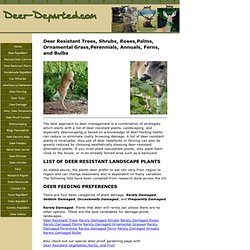 We would love to add your plants to our lists. Tell us about your landscape or garden and the plants that the deer avoid or love to eat. Please share with us!
---