Crafts
Making a Composition Book Art Journal....
So way way back, in June, I wrote this Studio Organization post, about starting the process of organizing my studio by cleaning out the closet full of junk. Well, it's September and...let's just say the closet is a work in progress. Some of the things that are taking up space in the closet are shirts that I never wear anymore.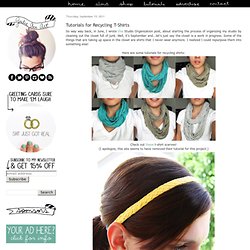 A couple of months ago, Jenny - the very lovely editor of PaperCraft Inspirations - asked me to work up a feature on different ways to use tissue paper. You can see the results in the September issue (on sale right about now), and alongside ruffles, twists, layers, buttons and twirly skirts, there's a miniature version of an old tissue-paper favourite. I made these flowers for Halloween a couple of years ago, and although the large scale can look fantastic on card projects, it doesn't leave room for very much else.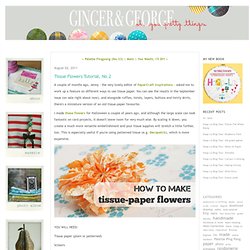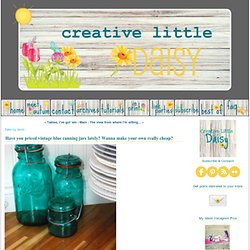 I bought these probably five years ago at an antique/consignment store. I think I paid about 12 dollars for a set of four.
I wanted to share with you a project from one of my readers who shares with us how to make leaf skeletons.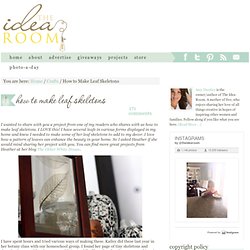 I love this Sharpie tie die DIY from The Art Girl Jackie blog! She did it with her adorable daughter and I think it's a fun inspiration for this Spring and upcoming music festival season. Use this technique to spruce up your ratty t-shirts or maybe a pair of of cut off shorts.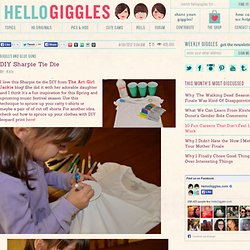 Here's a creative way to turn seashells the kids have collected into objects both beautiful and practical: Make them into candles. Tools and Materials Seashells Bleach Water Wax Wicks Double boiler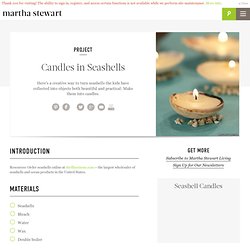 Jessica of Wednesday Inc shows us how to make those gorgeous twine chandeliers from the inspiration shoot she shared with us this morning. Using balloons, glue and twine, you can also make these lanterns for your wedding – and then bring it home and use it as your very own mid century lampshade. What you will need are: balloons, glue, yarn, tray for glue, corn starch 1/2 cup of Corn starch, 1/4 cup of Warm water, clear fast drying spray paint, hanging lamp cord or fishing line (depending on your desired final product), and a lighting kit if you're looking for a fully functional lantern.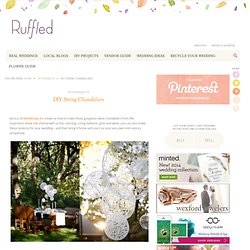 I really wanted to make the sock bunny that Heidi (from My Paper Crane ) created, but I didn't have any of those fantastic red and brown monkey socks. What I do have is baby socks: tons of cute, mismatched, totally useless, never stay on baby socks.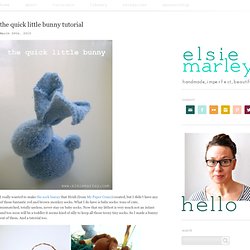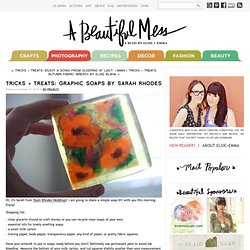 Hi, It's Sarah from Team Rhodes Weddings !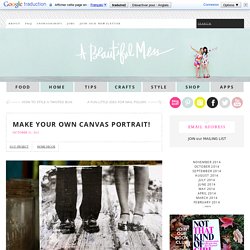 I love the look of family photos printed on canvas, but I never knew I could make them at home! After transferring photos to fabric , I was super excited to try some pieces using stretched canvas.
How to make an easy and stylish paint chip mobile for your nursery
Supplies: Wooden knitting ring Assorted paint chip samples in colors of your choosing Spray adhesive (optional) Circle punch Sewing machine Tape Punch out piles of circles from your paint chips samples.
Mini Tree Advent Calendar + Free Template
You might remember our woven chain bracelet tutorial, one of our favorite DIYs to date. As we're starting to get a taste of spring, we're revisiting this oldie but goodie with some minor adjustments -
Japanese Kusudama , this tutorial is featured on Craftuts Anyone can do that, I assure you. The proof: I can, just take a quick look at my result below. And, believe me, I am neither meticulous nor particularly patient. You could even say I'm the opposite. Below you can see my very first attempt to create paper flowers.