Philosophy General
http://5178206655921303915-a-1802744773732722657-s-sites.googlegroups.com/site/dominicgregoryphilosophy/Home/research/modal-epistemology/Imaginingpossibilities.pdf?attachauth=ANoY7cqx5be3J6agM3fcMswIeIC_H5lwEZFxh1K9miRxU5NjHOV_cK94RmRFeNwXQxge6KcmEvqbrhJQ
http://eprints.bham.ac.uk/30/1/LawPreprintDirection_of_Fit.pdf
Shaun Gallagher Ph.D. -- Research and Publications
Shaun Gallagher ... See a science article by John Tierney, A World of Eloquence in an Upturned Palm (28 August 2007), which cites some research that I'm doing with David McNeill and colleagues. Download the research paper here . See a "Ideas" article by Drake Bennett, Don't just stand there, think. (13 January 2008), which incorporates a small piece of an interview with me on embodied cognition.
Lisa Bortolotti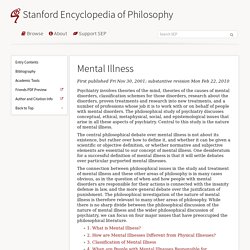 First published Fri Nov 30, 2001; substantive revision Mon Feb 22, 2010 Psychiatry involves theories of the mind, theories of the causes of mental disorders, classification schemes for those disorders, research about the disorders, proven treatments and research into new treatments, and a number of professions whose job it is to work with or on behalf of people with mental disorders. The philosophical study of psychiatry discusses conceptual, ethical, metaphysical, social, and epistemological issues that arise in all these aspects of psychiatry. Central to this study is the nature of mental illness.
Mental Illness
By the People, For the People by Rick Lewis News: March/April 2014 Hand lets amputees feel • Philosophy dept in sexism row • Putin's favourite thinkers • Philosopher becomes party leader — News reports by Sue Roberts The Ship of Fools Anja Steinbauer explains why Plato had problems with democracy.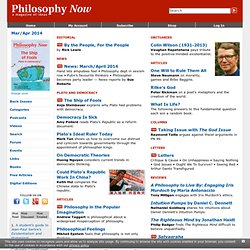 British Philosophical Association - representing professional philosophers in the UK
Practical philosophy
Philosophy is all about asking questions—questions to which there is currently no agreed or understood answer. Philosophy is about argument—putting a point of view that raises doubts or questions about another. Philosophy is about the use of rationality. Philosophy is about reflection on the nature of things. Philosophy is about opening up to possibilities—about 'doing' something with the way we think about things, and this site is all about Doing philosophy in the broadest sense.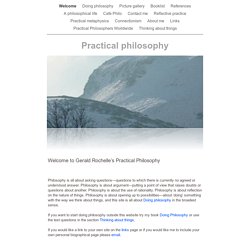 The Philosophy Shop | Thinking Changes
University of Central Lancashire - List of courses - Philosophy and Mental Health
Because of its very nature, mental health care raises as many conceptual questions as empirical ones. The philosophy of mental health is a rapidly developing field developed by philosophers, clinicians, eg psychiatrists and mental health nurses and mental health service users. Based on the newly published Oxford Textbook of Philosophy and Psychiatry co-authored by the course leader, the MA Philosophy and Mental Health course aims to develop a better understanding of psychiatry, and mental health care more broadly, through an analysis of some of its fundamental concepts.
Portal: Login to the site
Philosophy, School of Cultural Studies, Faculty of Humanities, Departments; University of Wales Trinity Saint David