Revetement-chalet contemporain
Le béton, plus brillant que jamais | Lucie Lavigne | Nouveautés. «Un béton lustré possède une grande richesse visuelle, car il met en valeur toutes les nuances du matériau», explique l'architecte montréalais Henri Cleinge, qui a toujours eu un penchant pour le béton naturel sans coloration.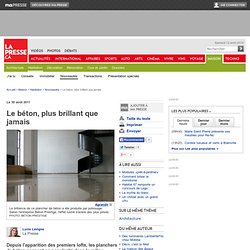 «Contrairement à la céramique, poursuit-il, le béton est dépourvu de multiples joints et s'impose comme une grande surface uniforme et dépouillée.» «La majorité de nos clients privilégient un polissage de niveau lustré», affirme, de son côté, Kathleen Bélanger, vice-présidente de Béton Prestige. Falbala | Roulottes gitanes / Gypsy Caravans. Hem | Next House. Maison loft, maison neuve dans un esprit Loft. AKB | a t e l i e r k a s t e l i c b u f f e y. Chalet à louer en estrie. Clearview Chalet par AKB. Start building your dream home at Lindal Cedar Homes. Maisons et chalets de cedre du Quebec. Turkel Design. Serenbe housepalmetto, GA The settlement of Serenbe is a new community where all aspects of its design are based on the principles of environmental sustainability.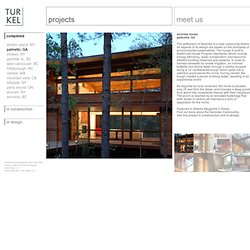 The house is built to EarthCraft House Program standards, which include energy efficiency, water conservation and resource-efficient building materials and systems. In order to harvest rainwater for onsite irrigation, an inclined butterfly roof drains water through a central scupper along a 14' cantilevered trough which spills into a retention pond below the home.
---