Samsung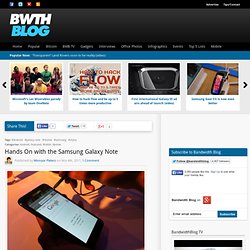 South Africa was lucky enough to be amongst the first countries to get the new Samsung Galaxy Note device, and they put a great amount of fanfare behind it's launch.
Hands On with the Samsung Galaxy Note
28 October 2011 Last updated at 04:23 ET
Samsung overtakes Apple in smartphone shipments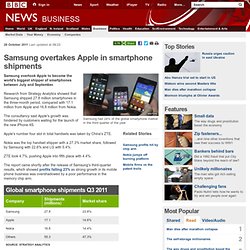 Please click for larger.
ATTENTION APPLE FANS: Samsung Blowing Past Apple To Become The Biggest Smartphone Vendor Is Not Good News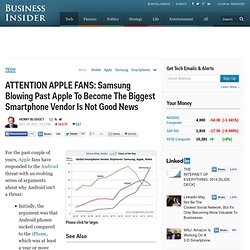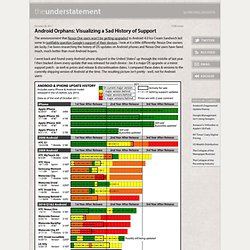 The announcement that Nexus One users won't be getting upgraded to Android 4.0 Ice Cream Sandwich led some to justifiably question Google's support of their devices .
Gadgetbox - Android 4.0 Ice Cream Sandwich explained
Wilson Rothman , NBC News – 532 days "People need Android ... but people didn't love Android," said Matias Duarte, director of the Android OS user experience, explaining why the world's most popular smartphone OS needed a full redesign. Ice Cream Sandwich, now officially labeled Android 4.0, is that overhaul. And people, it's awesome. Android developers put their heads together to figure out how to improve the operating system, and came up with three directives. "Enchant me.
Google first teased its Ice Cream Sandwich software update at its annual I/O developer conference in March, seen above.
Google Unwraps Ice Cream Sandwich, the Next-Generation Android OS | Gadget Lab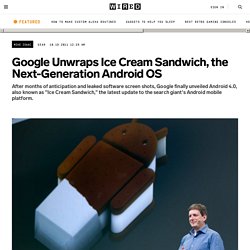 Find prices, local retailers and online retailers for Samsung SGH-T989ZKBTMB
It's time for a better tablet. It's time to Tab - Samsung P7500 10.1 - Tablet - Mobile Phone
Homepage
Benefits - Galaxy SII - Smart Phone - Mobile Phone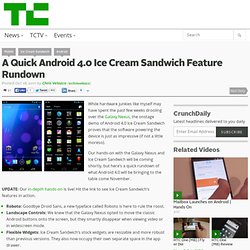 While hardware junkies like myself may have spent the past few weeks drooling over the Galaxy Nexus , the onstage demo of Android 4.0 Ice Cream Sandwich proves that the software powering the device is just as impressive (if not a little moreso).
A Quick Android 4.0 Ice Cream Sandwich Feature Rundown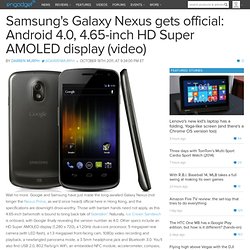 Samsung's Galaxy Nexus gets official: Android 4.0, 4.65-inch HD Super AMOLED display (video)
Samsung and Google introduce GALAXY Nexus World's First Smartphone to feature Android 4.0 Ice Cream Sandwich and a HD Super AMOLED display Hong Kong – October 19, 2011 – Samsung Electronics Co., Ltd, a leading mobile device provider, and Google, today announced GALAXY Nexus™, the world's first smartphone running Android™ 4.0, Ice Cream Sandwich, the latest release of the Android platform.