ERP
Open Source ERP. Flash Comparator | Open Source ERP Guru. The purpose of the Flash Comparator page is to provide the easiest possible platform for anyone interested in comparing open source ERP solutions.
We are constantly recording flash demos of different functionality from all major open source ERP vendors, adding them to the Comparator. We understand that sometimes when it comes to dealing with computers it can at times seem very confusing. List Of Open Source ERP. Openbravo ERP Software Openbravo ERP is a Web based ERP for SME, built on proven MVC & MDD framework that facilitate its customization.
Already in production, Openbravo ERP encompasses a broad range of functionalities such as finance, supply chain, manufacturing & much more. Apache OFBiz, The Apache Open For Business Project - Open Source E-Business / E-Commerce, ERP, CRM, POS, SCM, MRP, CMMS/EAM. Open Source ERP Guru. What is the best open source ERP solution in the market? | Small Business Accounting Software & Business Plan Software Reviews. Compiere from the Source. In this second part of the series, I will discuss what options Compiere has to go forward as an open source product and what prerequisites there are for building a thriving community.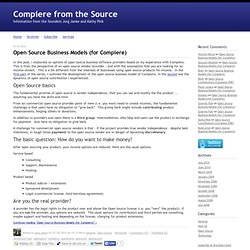 The indication for an active community are (user) contributions. In this blog, I will cover why people contributed to Compiere and why not. OpenERP Online gets on the Google Apps Marketplace. We are glad to announce the presence of OpenERP Online on the Google Apps Marketplace.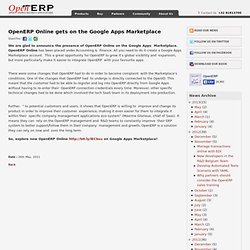 OpenERP Online has been placed under Accounting & Finance. All you need to do it create a Google Apps Marketplace account. This a great opportunity for OpenERP to grow it's global visibility and expansion, but more particularly make it easier to integrate OpenERP with your favourite apps. There were some changes that OpenERP had to do in order to become complaint with the Marketplace's conditions. Open-source ERP grows up | Applications. Can open-source software find a home in mission-critical systems?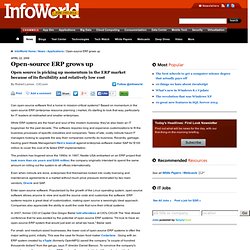 Based on momentum in the open-source ERP (enterprise resource planning ) market, it's starting to look that way, particularly for IT leaders at midmarket and smaller enterprises. While ERP systems are the heart and soul of the modern business, they've also been an IT bogeyman for the past decade. The software requires long and expensive customizations to fit the business processes of specific industries and companies. Online ERP, Open Source ERP, Cloud, SaaS ERP - ERPNext. Manage accounting, inventory, sales and a lot more in one open source app.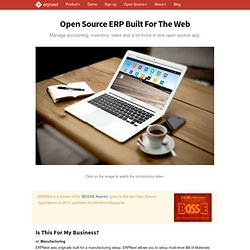 Click on the image to watch the introductory video. ERPNext is a winner of the (BOSSIE Awards) given to the top Open Source Applications of 2013, published by InfoWorld Magazine. Is this for my business? ManufacturingERPNext was originally built for a manufacturing setup.
---