Social media
'Social strategy'; how many times have you heard that cliché?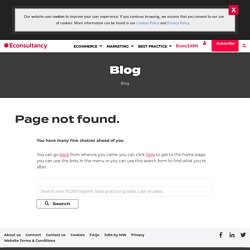 Four brands which may be damaging their consumer image on Facebook
E-Commerce Paris 2012 : Retour sur la Présentation Socialshaker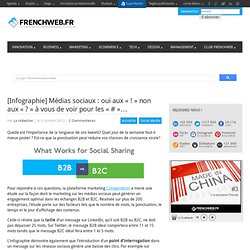 Quelle est l'importance de la longueur de vos tweets?
La marque de glaces Ben & Jerry's a su profiter du capital sympathie que sa communication décalée et ses engagements dans le commerce équitable ont pu lui procurer jusqu'à aujourd'hui . Autant d'aspects que l'on retrouve dans sa communication centrée autour de la communauté, avec laquelle Ben & Jerry's semble déterminer à préserver ce lien fort. Point d'orgue de cet engagement, la "Fair Cone Night", en association avec Emmaüs, durant laquelle chaque participant paye son entrée via le don d'un vêtement pour l'association. Un acte immortalisé dans une photo sur laquelle le donateur est identifié, processus qui permet d'alimenter la viralité de l'opération. La marque n'en oublie pas pour autant les bonnes vieilles recettes de l'acquisition de fans sur Facebook et organise un "Ice Cream Tour" durant lequel chacun est invité à voter pour sa marque de glace préférée pour gagner "1 an de glace".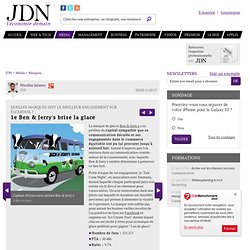 1e Ben & Jerry's brise la glace - Engagement Facebook marques
Could Pinterest be the silver bullet for retailers on social media?  Pinterest is clearly resonating with online consumers in a big way.  To put it simply, customers who find a product via Pinterest are more likely to purchase it than those who find the product via other social networks.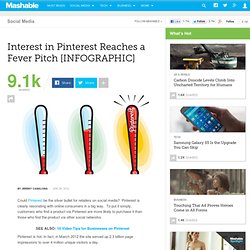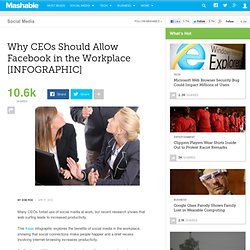 Many CEOs forbid use of social media at work, but recent research shows that web surfing leads to increased productivity. This Keas infographic explores the benefits of social media in the workplace, showing that social connections make people happier and a brief recess involving Internet-browsing increases productivity. An Academy of Management experiment gave three groups of people — a control group bundling sticks, a group taking an Internet-free break and a group browsing the Internet for 10 minutes — the simple task of highlighting as many letter A's as they could among 2,000 words of text. The three groups then had their mental exhaustion measured. Those browsing the Internet were 16% more productive than the Internet-free break group and 39% more productive than the control group. SEE ALSO: 37 Productivity Tips for Working From Anywhere
Après deux mois passés sur le réseau social, l'e-commerçant y anime 6 boards lui permettant de tester la popularité des produits. Très active sur les réseaux sociaux, La Redoute s'est lancée il y a deux mois sur Pinterest. L'e-commerçant y dispose désormais de cinq boards thématiques, sur lesquels il épingle des visuels de ses produits et de ses inspirations, ainsi que d'un board collaboratif dédié à son portail OneStopPlus de mode grande taille. Une façon également de repérer les produits les plus populaires : ceux que les internautes ré-épinglent sur leur propre board. La Redoute se vante également d'avoir enregistré des commandes de consommateurs arrivés sur son site au travers de Pinterest.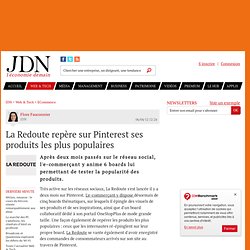 La Redoute repère sur Pinterest ses produits les plus populaires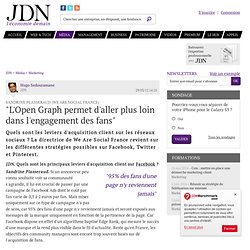 Quels sont les leviers d'acquisition client sur les réseaux sociaux ? La directrice de We Are Social France revient sur les différentes stratégies possibles sur Facebook, Twitter et Pinterest. JDN. Quels sont les principaux leviers d'acquisition client sur Facebook ? "95% des fans d'une page n'y reviennent jamais"
Tout savoir sur l'audience de Pinterest dans le monde
Facebook va rendre sa plateforme de pub plus simple et performante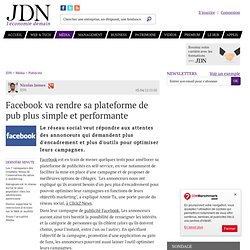 Le réseau social veut répondre aux attentes des annonceurs qui demandent plus d'encadrement et plus d'outils pour optimiser leurs campagnes. Facebook est en train de mener quelques tests pour améliorer sa plateforme de publicités en self-service, en vue notamment de faciliter la mise en place d'une campagne et de proposer de meilleures options de ciblages. "Les annonceurs nous ont expliqué qu'ils avaient besoin d'un peu plus d'encadrement pour pouvoir optimiser leur campagnes en fonctions de leurs objectifs marketing", a expliqué Annie Ta, une porte-parole du réseau social, à ClickZ News . Dans leur campagne de publicité Facebook , Les annonceurs auront ainsi très bientôt la possibilité de renseigner les intérêts et la catégorie de personnes qu'ils ciblent (alors qu'ils doivent choisir, pour l'instant, entre l'un ou l'autre). En spécifiant l'objectif de la campagne, promotion d'une application ou gain de fans, les annonceurs pourront aussi laisser l'outil optimiser leurs campagnes.
For Social Media Marketers, SEO Is Much More Popular Than PPC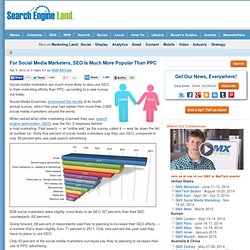 Social media marketers are much more likely to also use SEO in their marketing efforts than PPC, according to a new survey out today. Social Media Examiner announced the results of its fourth annual survey, which this year had replies from more than 3,800 social media marketers around the world. When asked what other marketing channels they use, search engine optimization (SEO) was the No. 2 response behind e-mail marketing.
Comment Showroomprivé a recruté 100.000 membres sur Facebook
Damien Vincent, Directeur Commercial de Facebook France, nous éclaire sur les best practices des marques qui dialoguent le mieux avec leurs fans.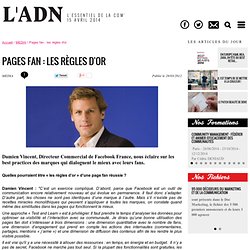 Facebook : J-7 avant l'application automatique de la Timeline
Il ne vous reste plus que quelques jours pour préparer votre page à la mise à jour du 30 mars. Quatre conseils pour vous approprier toutes les spécificités de la Timeline Facebook. Le nouveau format de page fan lancé par Facebook va changer de nombreuses choses pour les marques qui vont devoir apprendre à utiliser un outil qui fait la part belle aux visuels et à la curation, la Timeline. Un format qui sera appliqué par défaut à l'ensemble des marques sous peu, à partir du 30 mars et dont voici les principales modifications. - Apparition d'une image de couverture au format bannière en haut de page. Celle-ci doit révéler la personnalité de votre marque via un visuel inspirationnel .
If your brand isn't on Pinterest , you could be missing out on a growing stream of potential customers. While shaping your brand's image on Pinterest, remember to take into account the specifics of the site's userbase. A recent study showed that home, arts and crafts, style/fashion and food are the most popular categories on Pinterest. The food category is the fastest growing segment of Pinterest.
I as an article reader know that readers these days are not really interested to spend 10-15 minutes on an article. So I have made sure that you can read this entire article in less than 4 minutes.
10 short twitter tips that will make you more influential on twitter | tipsandtricksworld.com
Why Social Marketing Is So Hard - Nilofer Merchant
Brands are spending a great deal of time and energy investing in platforms to get likes or pluses, and not really being social at all. It's been well over 15 years since the social era started. So many brilliant people have been writing, speaking, and sharing case studies over that length of time, that if I only listed a few, I'd miss some really important thinkers. And if I tried to list them all, I'd hit the word limit on this post. But despite this outpouring of expertise, many organizations still find marketing in the social era ridiculously hard to do well, if at all. Some problems are technical problems, where the solution is finding the best expert in that field and then working to execute her strategy.
« 77% des internautes français sont quotidiennement sur les réseaux sociaux ».
Quels sont les enjeux clés de la nouvelle Timeline de Facebook ? par Pierre Matuchet - Chronique e-Business
"On ne peut pas tout dire sur Facebook"
Sur les réseaux sociaux, les cyberacheteurs commentent surtout les offres
Guide de l'E-réputation et du Social CRM
4 Ways to Convert Facebook Fans Into Super Fans
[Timeline Facebook] Quels changements attendre pour les marques ?
P&G CEO To Lay Off 1,600 After Discovering It's Free To Advertise On Facebook
Quel est le bon timing pour vos tweets, mails et posts Facebook ?
[Nouveau] Foursquare joue la carte du business avec les restaurants !