Life
Chimps Do the Darnedest Things - Photo Gallery
Sleepy Animals - Photo Gallery
Animals Driving Cars - Photo Gallery
Sweetest Little Lambs - Photo Gallery
Cutest Kittens - Photo Gallery
Two-Headed Animals! - Photo Gallery
9/11: The 25 Most Powerful Photos - Photo Gallery
Explosions: Most Dramatic Photos - Photo Gallery
Surf Dogs - Photo Gallery
Saratoga: Horse Racing's Heart - Photo Gallery
Weird Science in Action - Photo Gallery
The Week's Best Photos: 7.15.11 - Photo Gallery
Photos Gone Viral! - Photo Gallery
Mystery Extinctions - Photo Gallery
Upside-Down Planes - Photo Gallery
Marvelous Early Flying Machines - Photo Gallery
Surf's Up: Amazing Rides - Photo Gallery
Real Faces Behind Hacker Cases - Photo Gallery
Bear Attacks! - Photo Gallery
Coolest Owls - Photo Gallery
Majestic, Soaring Eagles - Photo Gallery
Beautiful Birds in Flight - Photo Gallery
Baby Tigers - Photo Gallery
Cutest Baby Tigers You've Ever Seen - Photo Gallery
Baby Animals Playing - Photo Gallery
Baby Animals with Mom - Photo Gallery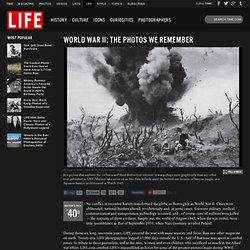 WWII: The Pictures We Remember - Photo Gallery
No conflict in recorded history transformed the globe as thoroughly as World War II.
Terrible Beauty: A-Bomb Tests - Photo Gallery
WWII: Allied Internees, Philippines - Photo Gallery
One scene shared by all of the 20th century's bloodiest conflicts might have been lifted straight from The Road Warrior, or a Beckett play: spectral landscape; buildings obliterated; blasted trees; lifeless wasteland. The photographs in this gallery, for instance — pictures that starkly reference every bleak, war-battered panorama from Verdun to Iwo Jima to Chosin Reservoir to Pork Chop Hill — were made in September, 1945, in Hiroshima and Nagasaki, Japan. But far from chronicling the aftermath of a sustained, slogging campaign, these images — none of which were published in LIFE magazine — depict the devastation produced in a few unspeakably violent seconds. Here, LIFE.com presents pictures from both cities taken in the weeks and months following the bombings — bombings that killed a combined 120,000 people outright, and tens of thousands more through injury and radiation sickness.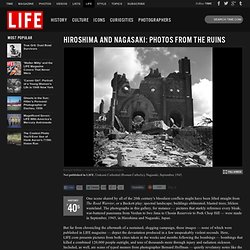 Never-Seen: Hiroshima and Nagasaki - Photo Gallery
WWII: Children of War - Photo Gallery
WWII: Dogs of War - Photo Gallery
Rupert Murdoch: Making of a Mogul - Photo Gallery