Video Distrib
Video Platforms. Stargate Studios. Founded in 1989 by Sam Nicholson, ASC, a distinguished cinematographer and visual effects supervisor, Stargate Studios is an international production company providing concept development, advanced production services and state-of-the-art post production.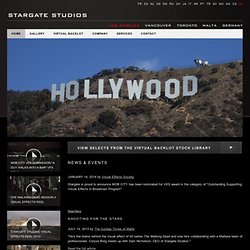 Stargate has a well-established, award winning reputation for producing high concept production and visual effects in feature films, television, and commercials. Over the years, Stargate has developed and refined a diverse array of proprietary production tools, personnel and capabilities including live action film and HD production, the Virtual Backlot, VB Live (real time compositing), CGI, digital compositing, matte painting and on-line HD editing services. The Virtual Backlot, utilizing VB Live, is one of the best, low-cost alternatives to shooting on location and offers fully immersive environments to shoot establishing shots, multiple angle coverage, walk & talks and driving.
Video Conferencing
Kaltura.org | Open Source Video Community. From Cinepak to H.265: a brief history of video compression. When we asked our faithful readers what technological advances had made the biggest difference to their lives, Prospero424 stepped up to the plate to deliver a humdinger: video compression.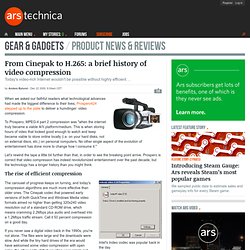 To Prospero, MPEG-4 part 2 compression was "when the internet truly became a viable A/V platform/medium. This is when storing hours of video that looked good enough to watch and keep became viable to store online locally (i.e. on your hard disks, not on external discs, etc.) on personal computers. No other single aspect of the evolution of entertainment has done more to change how I consume it. " Academic Video Search. On April 20, 1646, French botanist Charles Plumier was born.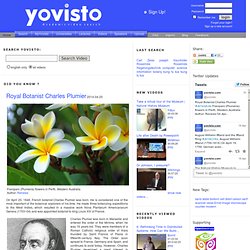 He is considered one of the most important of the botanical explorers of his time. He made three botanizing expeditions to the West Indies, which resulted in a massive work Nova Plantarum Americanarum Genera (1703–04) and was appointed botanist to king Louis XIV of France. Charles Plumier was born in Marseille and entered the order of the Minims, when he was 16 years old.
ReelSurfer - Home.
---