Teensy
Boutiques eBay.fr - Achat et vente AixiZ Service and International LLC, laser module, neuf ou d'occasion!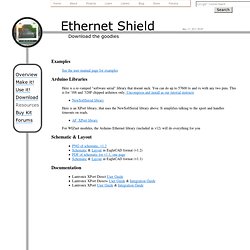 Here is a re-vamped "software serial" library that doesnt suck.
Ethernet shield
Theif Dark
LUFA (Lightweight USB Framework for AVRs, formerly known as MyUSB) is my first foray into the world of USB.
Four Walled Cubicle - LUFA (Formerly MyUSB)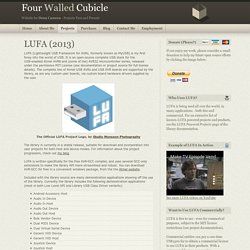 This is a program to stabilize a multicopter (copilot), runs on microcontroller like Arduino or Teensy++ and only a wii motion plus, no other electronics needed.
BaronPilot Arduino based copilot autostabilizer with Nintendo Wii component (tricopter, quadcopter)
SerialAnalyzer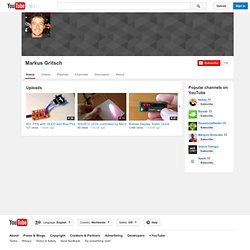 markusgritsch's Channel
Welcome to YouTube! The location filter shows you popular videos from the selected country or region on lists like Most Viewed and in search results.To change your location filter, please use the links in the footer at the bottom of the page. Click "OK" to accept this setting, or click "Cancel" to set your location filter to "Worldwide".
Main Page - DP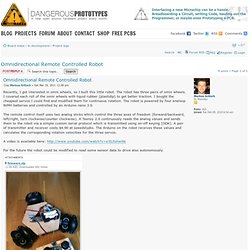 forum • View topic - Omnidirectional Remote Controlled Robot
I just did a very quick and rough assembly... and well... it works kinda, the wheels without any plastidip or similar on a wooden floor slip and slide a ton and my tiny DC motors with not much down-gearing in the gearbox spin way too fast, the robot moves in the expected direction reasonably well, but it's basically spinning at least 4 times the distance is moves if that makes sense, and since it has 4 wheels with no suspension or give what so ever going over anything makes at least one wheel free-wheel in the air. And this is without the 300g battery, motor controller boards, arduino mega and second level on top, I expect the performance to get even worse with that weight on top.
Labs » Teagueduino 0.1: Arduino just got a whole lot easier!
Teensyduino - Add-on for Arduino IDE to use Teensy USB development board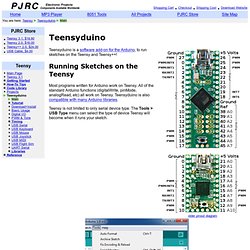 Teensyduino is a software add-on for the Arduino, to run sketches on the Teensy and Teensy++! Running Sketches on the Teensy Most programs written for Arduino work on Teensy.
PJRC: Electronic Projects with Components Available Worldwide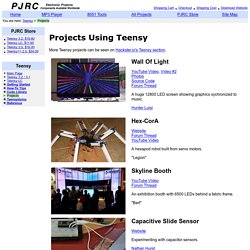 Projects using the Teensy USB development board
USBrewMinder
The Teensy is a complete USB-based microcontroller development system, in a very small footprint, capable of implementing many types of projects. All programming is done via the USB port. No special programmer is needed, only a standard "Mini-B" USB cable and a PC or Macintosh with a USB port.