LightRoom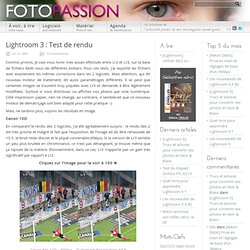 Comparatif Lightroom 2 et Lightroom 3 | Lightroom | FotoPassion
Comme promis, je vais vous livrer mes essais effectués entre Lr2 et Lr3, sur la base de fichiers RAW issus de différents boitiers. Pour ces tests, j'ai exporté les fichiers avec exactement les mêmes corrections dans les 2 logiciels. Mais attention, qui dit nouveau moteur de traitement, dit aussi paramétrages différents. Il se peut que certaines images se trouvent trop piquées avec Lr3 et demande à être légèrement modifiées. Surtout si vous distribuez ou affichez vos photos par voie numérique.
Astuce Lightroom : modifier par lot les heures de capture
Oct 07 2009 Quand on shoote avec plusieurs boîtiers, il peut arriver que leurs horloges soient décalées pour peu que, par exemple, on ait oublié de répercuter le changement d'heure d'été/d'hiver sur l'un d'entre eux. Quand on est à l'étranger, on peut a posteriori vouloir affecter à ses clichés l'heure locale.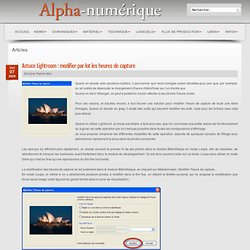 LR2/Mogrify - Add Watermarks, Border and Text Annotions to Image
LR2/Mogrify - Add Watermarks, Border and Text Annotions to Image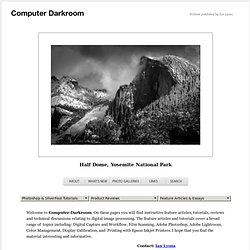 Welcome to Computer-Darkroom. On these pages you will find instructive feature articles, tutorials, reviews and technical discussions relating to digital image processing. The feature articles and tutorials cover a broad range of topics including: Digital Capture and Workflow, Film Scanning, Adobe Photoshop, Adobe Lightroom, Color Management, Display Calibration, and Printing with Epson Inkjet Printers. I hope that you find the material interesting and informative. Contact: Ian Lyons
Computer Darkroom - Home
Adobe Photoshop Lightroom 3.0 Public Beta Feature Feature Previe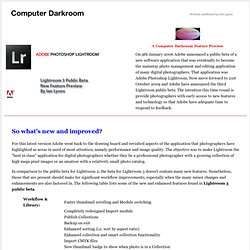 So what's new and improved? For this latest version Adobe went back to the drawing board and revisited aspects of the application that photographers have highlighted as areas in need of most attention, namely performance and image quality. The objective was to make Lightroom the "best in class" application for digital photographers whether they be a professional photographer with a growing collection of high mega pixel images or an amateur with a relatively small photo catalog.
Utiliser Lightroom
Oct 23 2009 Excellente surprise hier matin avec la mise à disposition par Adobe d'une beta publique de la version 3 de Lightroom. La CS5 ne semblant pas devoir arriver avant le début de l'année prochaine et les deux logiciels partageant le même moteur de développement des raws, nous n'espérions pas disposer aussi rapidement d'une nouvelle version de Lightroom. Evidemment il ne s'agit que d'une beta ne disposant pas de toutes les innovations et améliorations de la release finale, mais ce premier contact est un réel plaisir. Je n'ai pas eu le temps de prendre en main LR3 beta de manière suffisamment complète pour parler de ses nouvelles fonctionnalités, et je vous convie à lire l'excellente présentation faite par Gilles Théophile sur son site utiliser-lightroom.fr. Le bruit à hautes sensibilité étant le gros point faible de la version 2 de Lightroom pour les boîtiers Sony, je me suis attaché à évaluer les améliorations apportées dans ce domaine pour les Alpha 900 et 700.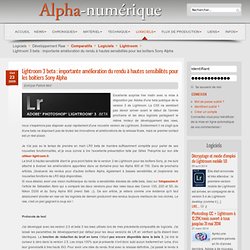 Lightroom 3 beta : importante amélioration du rendu à hautes sen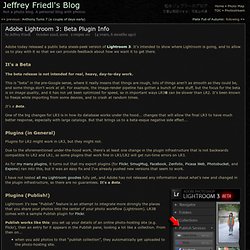 Jeffrey Friedl's Blog » Adobe Lightroom 3: Beta Plugin Info
NOTE: Images with an icon next to them have been artificially shrunk to better fit your screen; click the icon to restore them, in place, to their regular size. Adobe today released a public beta sneak-peek version of Lightroom 3. It's intended to show where Lightroom is going, and to allow us to play with it so that we can provide feedback about how we want it to get there. It's a Beta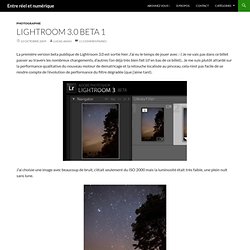 La première version beta publique de Lightroom 3.0 est sortie hier. J'ai eu le temps de jouer avec :-) Je ne vais pas dans ce billet passer au travers les nombreux changements, d'autres l'on déjà très bien fait (cf en bas de ce billet).. Je me suis plutôt attardé sur la performance qualitative du nouveau moteur de dematricage et la retouche localisée au pinceau, cela n'est pas facile de se rendre compte de l'évolution de performance du filtre dégradée (que j'aime tant). J'ai choisie une image avec beaucoup de bruit, c'était seulement du ISO 2000 mais la luminosité était très faible, une plein nuit sans lune.
Entre réel et numérique » Lightroom 3.0 beta 1
Lighting Mods
Let me just start from the beginning... I sold my 70-200 L IS USM II lens has it was used and needed a replacement, also was hopping on getting the newer one with the newer lens cap and a new serial number. In fact that was never an issue but my lens get so much use than from now and then it is better to sell them and buy new ones than to send them back to repair. That was the case for this lens. It had a lot of mileage so it went in for Canon CPS Portugal to get a clean and was sold.