LightRoom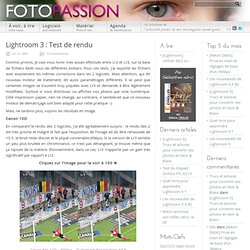 Comparatif Lightroom 2 et Lightroom 3 | Lightroom | FotoPassion
Comme promis, je vais vous livrer mes essais effectués entre Lr2 et Lr3, sur la base de fichiers RAW issus de différents boitiers.
Astuce Lightroom : modifier par lot les heures de capture
Oct 07 2009 Quand on shoote avec plusieurs boîtiers, il peut arriver que leurs horloges soient décalées pour peu que, par exemple, on ait oublié de répercuter le changement d'heure d'été/d'hiver sur l'un d'entre eux. Quand on est à l'étranger, on peut a posteriori vouloir affecter à ses clichés l'heure locale.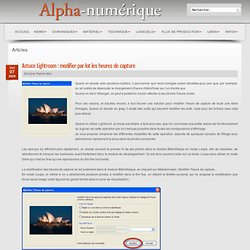 LR2/Mogrify - Add Watermarks, Border and Text Annotions to Image
LR2/Mogrify - Add Watermarks, Border and Text Annotions to Image
Computer Darkroom - Home
Adobe Photoshop Lightroom 3.0 Public Beta Feature Feature Previe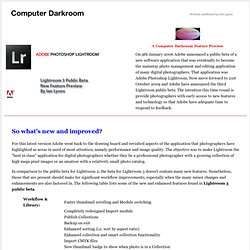 So what's new and improved? For this latest version Adobe went back to the drawing board and revisited aspects of the application that photographers have highlighted as areas in need of most attention, namely performance and image quality. The objective was to make Lightroom the "best in class" application for digital photographers whether they be a professional photographer with a growing collection of high mega pixel images or an amateur with a relatively small photo catalog.
Utiliser Lightroom
Oct 23 2009 Excellente surprise hier matin avec la mise à disposition par Adobe d'une beta publique de la version 3 de Lightroom.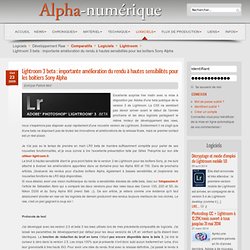 Lightroom 3 beta : importante amélioration du rendu à hautes sen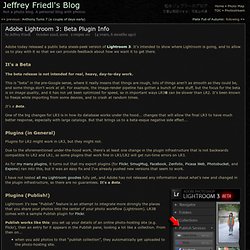 Jeffrey Friedl's Blog » Adobe Lightroom 3: Beta Plugin Info
NOTE: Images with an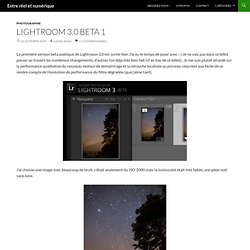 Oct 23 2009
Entre réel et numérique » Lightroom 3.0 beta 1
Lighting Mods