IDE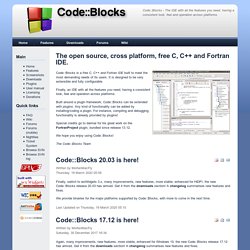 Code::Blocks is a free C, C++ and Fortran IDE built to meet the most demanding needs of its users. It is designed to be very extensible and fully configurable. Finally, an IDE with all the features you need, having a consistent look, feel and operation across platforms.
Build web applications quickly and easily using the industry's leading web application IDE. Aptana Studio harnesses the flexibility of Eclipse and focuses it into a powerful web development engine. almot2year Aptana: @noamcb Yes. You need to uninstall PyDev and re-install Aptana almot2year Aptana: @theDylanBarth That should have been fixed long ago. If you have a reproducible test case, please file a bug and we'd be happy to look.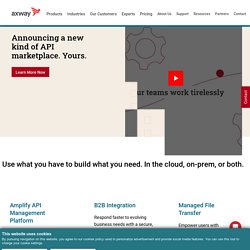 Welcome to KDevelop.org | KDevelop
Hello all! After five months of work the KDevelop team is pleased to announce KDevelop 4.5.2. It comes packed with more than twenty bug fixes, among which are stability improvements that should benefit many users. As such, it is highly suggested to update to the new version as soon as possible. KDevelop 4.5.2 is going to be the last patch release in the 4.5 time frame. We are already busily hacking away at KDevelop 4.6, which will come with even more bug fixes, higher stability, improved performance and better visuals and workflows.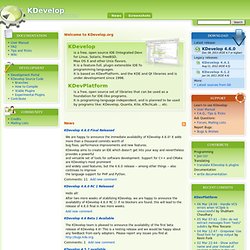 Power. Beauty. Portability. Target Everything with Qt.