CHDK
HOWTO: Calibrating the distance of the A620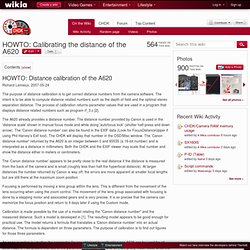 Richard Lemieux, 2007-05-24 The purpose of distance calibration is to get correct distance numbers from the camera software. The intent is to be able to compute distance related numbers such as the depth of field and the optimal stereo separation distance. The process of calibration returns parameter values that are used in a program that displays distance related numbers such as program rf_3.c [2]. The A620 already provides a distance number.
FAQ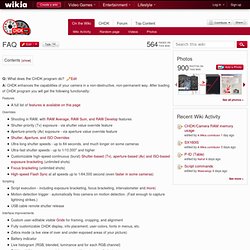 Q. What does the CHDK program do? Edit A.
ACID
This is the English version of the ACID Download Page. There's a German version here and a Spanish version here . If you are interested in making other translated versions of ACID available, please see the ACID Internationalisation page .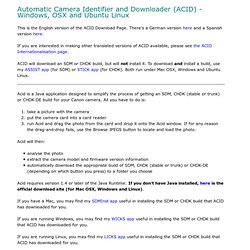 Okay, let's get some stuff together. Go get the following: Altoids Smalls container (the new one with the hinged lid) Energizer "Energi To Go" cell phone charger with extra adapter Motorola wall charger 3/32" mono panel-mount jack NO SPST momentary push switch N type battery holder A23 Energizer battery hook up wire solder heat shrink tubing various tools First of all, thanks to Kipkay for his Instructable ([http://www.instructables.com/id/12-Volt-Battery-Hack!-You_ll-be-Surprised.../ 12 volt battery hack]) about disassembling A23 12v batteries to harvest the coin cells within.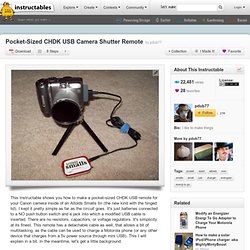 Pocket-Sized CHDK USB Camera Shutter Remote
Try it out
Samples: High-Speed Shutter & Flash-Sync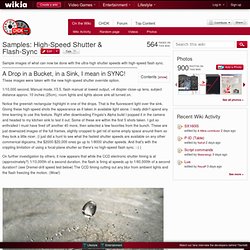 Sample images of what can now be done with the ultra-high shutter speeds with high-speed flash sync. These images were taken with the new high-speed shutter override option. 1/10,000 second, Manual mode, f/3.5, flash manual at lowest output, +4 diopter close-up lens, subject distance approx. 10 inches (25cm), room lights and lights above sink all turned on.
Samples: Unlimited DOF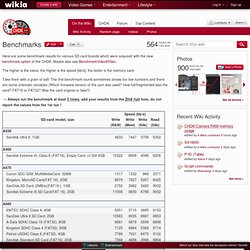 Benchmarks
Here are some benchmark results for various SD card brands which were acquired with the new benchmark option of the CHDK. Maybe also see BenchmarkVideo60Sec . The higher is the value, the higher is the speed [kb/s], the faster is the memory card.
mbineZM News
CombineZP the next member of the CombineZ series of programs is now available. Having trouble Downloading from here? There are copies of most files on the CombineZ Yahoo Group web site, try downloading from there. Please Note There are now Two versions of CombineZM. 1. the FULL version still called CombineZM, short form CZM. 2. the SMALL version called CombineZ-m, short form CZm.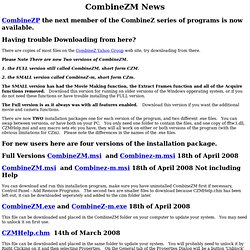 CombineZM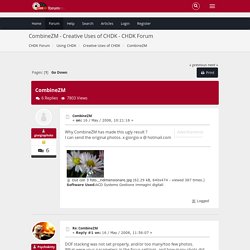 DOF stacking was not set properly, and/or too many/too few photos. What were your parameters in the focus settings, and how many shots did you combine? What I do with such macros is set the focus depth increment to 2mm, set it to "+" bracketing, set into continuous mode, set the focus lock at the closest I can, set EV lock, and fire away.
CheatSheets
A640 for HDR Bracketing Edit I've made this cheat sheet to help me remember all the ALT-shortcuts on the A640, and to teach my wife how to take HDR exposure-bracketed sequences. Hope that one or the other might find it as useful as I do. Feel free to modify it to your needs. Some of the text is camera and/or script file dependent.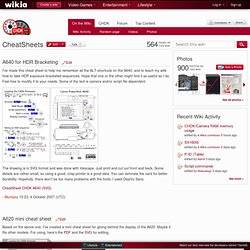 FAQ
Firmware versions in green are available in stable and/or dev for download Firmware versions in gray do not have official CHDK releases. Check porting status here For the development status of not-yet-supported cameras, see For Developers . It is likely that any Canon Powershot based on the DIGIC II , DIGIC III or DIGIC 4 platforms can be supported, although it is impossible to be sure until someone starts work on a particular model.
A guide to installing and using CHDK with your Mac. Manual vs. Auto booting Edit There are two possible ways to use the CHDK on the camera.
FAQ/Mac
Since the discovery of many new override features, some far surpassing what the cameras were originally sold to do, it has been found that each make and model of camera may have variations in the absolute limits of Shutter-Speeds, F-Stops, ISO-Values, Motion-Detection Speed, among others. It might be interesting if people who have tested the limits of their particular cameras would provide what limits they found. This would also be a nice quick & dirty chart for anyone wanting to choose a CHDK-capable camera based on these new capabilities.
CameraFeatures
CHDK for Dummies
The Very First Steps Choosing a new camera Edit There are two segments in the digital camera market: people who just want to snap pictures, and professional photographers. Accordingly, many camera manufacturers have two "families" of product: Point And Shoot cameras (also called Digital Compact cameras) intended for consumers who want to take snaps.
A newer User Manual is here: → CHDK User Manual New ! - Has links to the old resources
CHDK firmware usage
Important Remarks Edit The scripts posted below were written by CHDK users, and are contributed as is . Please note that prior to 2009 a number of special builds of CHDK were in general release and some used different uBASIC commands and features. With the unification of CHDK into one release trunk, some of these older scripts may not run on current versions of CHDK. Also, be aware that some of these scripts use CHDK's ability to simulate camera button presses.
UBASIC/Scripts
UBASIC/Scripts: Focus Bracketing
DoF Stacking
Scripts
UBASIC/Scripts: Universal motion detection
Gentles Limited: Camera Remote Control
The Gentled CHDK2
Sujit Shet
building usb-remote-cable
USB Splitter
USB Remote Cable
CHDK in Brief