Adobe AR
I had the idea that I wanted to do an augmented reality project that used a white rectangle on black instead of the usual black on white. After some discussion on Twitter it was clear that I needed to invert the BitmapData coming out of the camera before sending it to the FLARToolkit. Now there are many ways which you could do that but I decided to use a Pixel Bender filter just for the hell of it.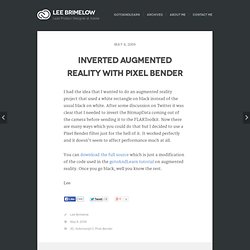 The Flash Blog » Inverted augmented reality with Pixel Bender
Augmented reality with animated avatars using the 3D drawing API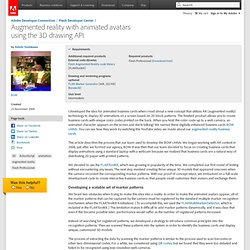 Developing a scalable set of marker patterns We faced two obstacles when trying to make this idea into a reality. In order to make the animated avatars appear, all of the marker patterns that can be captured by the camera must be registered by the standard multiple marker recognition mechanism when the FLARToolKit is initialized.
Augmented reality with animated avatars using the 3D drawing API