Furniture
,ovo. 21 ways of turning pallets into unique pieces of furniture. Wood pallets have been around for decades as mechanisms for shipping and storing larger items (among other things).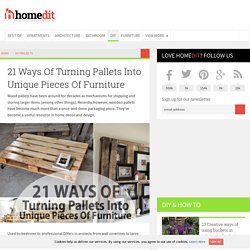 Recently, however, wooden pallets have become much more than a once-and-done packaging piece. They've become a useful resource in home décor and design. Used by beginner to professional DIYers in projects from wall coverings to large and small furniture pieces to home décor accessories, wood pallets can be disassembled into wood planks that can be used for any number of projects. The wood can be like new, rustic with patina, or somewhere in between. And, best of all (to the DIY world, at least), is their price: Free! Life after potholes. 0 Comments Tyred?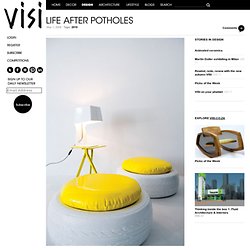 Flop down on one of these DIY treasures. WORDS: Mirelle Leyden | PRODUCTIONS: Klara van Wyngaarden | PHOTOS: Dook Don't despair when you have to replace a tyre (or two) due to the state of our urban roads. Rather reclaim your damaged goods and transform them into seats. INTERVIEW: Inhabitat Chats with Recycled Wood Designers Scrapile Scrapile – Inhabitat - Green Design Will Save the World. I have been enamored with environmentally conscious furniture company Scrapile ever since I came across their line of recycled wood furniture during New York Design week years ago.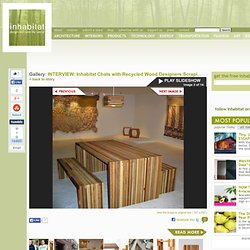 Brooklyn-based designers Carlos Salgado and Bart Bettencourt have created a beautiful, cutting-edge line of furniture by collecting wood scraps from various lumber mills and recycling those scraps (which would otherwise be headed for landfill) into their stunning minimalist pieces. At this point, the Scrapile line includes tables, benches, stool, shelving, crates and lamps, all made out of their signature striated material. I had a chance to sit down with the up-and-coming design duo at their shop in Williamsburg to learn how it all began.
FALT.series by Tim Mackerodt. Designer Tim Mackerodt of Germany will show this lamp and stool made of folded concrete at DMY International Design Festival in Berlin next month.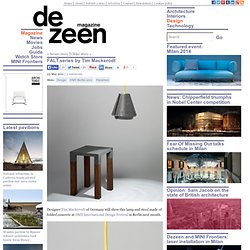 Called FALT.series, the objects are made from thin sheets of fibre-reinforced concrete that's rolled out and formed over moulds. Mackerodt completed the project while studying at Kunsthochschule Kassel in Germany and will exhibit alongside fellow students at DMY Berlin. Balloon Bench by h220430. This floating bench by Japanese studio h220430 appears to be held up by bunches of balloons at either end.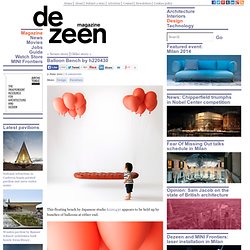 The aluminium Balloon Bench is suspended from anchor points in the ceiling, concealed by clusters of polyethylene balloons. See also: Rubber Stool by h220430 More benches on Dezeen » Superheroes by Glimpt. These stools by Swedish designers Glimpt are made in Vietnam from rolls of seagrass, bound with the thread that's normally used to make hammocks.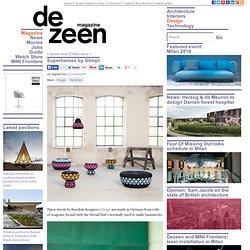 The manufacturers usually produce small bowls made of sea grass fixed with thread, so Glimpt scaled up the process. Called Superheroes, the collection was developed with Vietnamese furniture company UMA. The coloured patterns were created by Swedish illustrator Malin Koort. FUCK YEAH TOBI TOBSEN™ : Shuttlecock Stools. Furniture by Resident at designjunction. London Design Festival 2011: New Zealand furniture brand Resident will launch their inaugural collection at designjunction during the London Design Festival next week.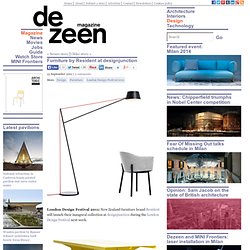 The collection includes the Flyover Table, made of two folded sheets of steel that slot into upright fins, the Hawk table and chairs in oak and an upholstered armchair called Felix. The cantilevered Spar lamp completes Resident's first collection and was inspired by the rigging on sailing ships. Dezeen Platform: Florian Schmid. Dezeen Platform: Florian Schmid presents his Stitching Concrete Project at our micro-exhibition Dezeen Platform in Dezeen Space today.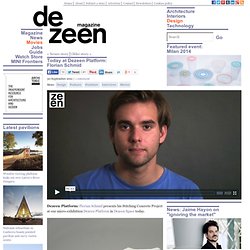 The Munich-based industrial designer's chairs were published on Dezeen in August. The project uses the material Concrete Canvas, which was featured on Dezeen in 2009. Schmid folds the Concrete Canvas and stitches the edges together with brightly coloured thread, then supports it on a wooden mould while it's drenched in water and allowed to harden.
---