Restaurant
Pattern Bar. Fraiche - Culver City - Culver City. Umami Burger | The Fifth Taste. A rare four-star restaurant review: The Bazaar by José Andrés. Olives that flood your mouth with flavor.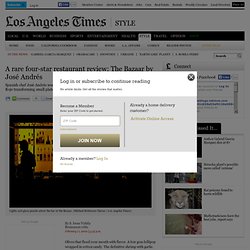 A foie gras lollipop wrapped in cotton candy. The definitive shrimp with garlic. Innocent-looking bites that shoot smoke out of your nostrils. Welcome to Grub Restaurant. The Review: Ilan Hall's the Gorbals in downtown Los Angeles. When I woke up the next morning, I really thought it had all been a dream.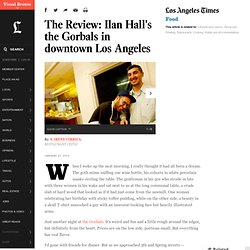 The goth mime sniffing our wine bottle, his cohorts in white porcelain masks circling the table. The gentleman in his 50s who strode in late with three women in his wake and sat next to us at the long communal table, a crude slab of hard wood that looked as if it had just come from the sawmill. One woman celebrating her birthday with sticky toffee pudding, while on the other side, a beauty in a skull T-shirt smooched a guy with an innocent-looking face but heavily illustrated arms. Just another night at the Gorbals. It's weird and fun and a little rough around the edges, but definitely from the heart. Moon Mart Kabab - Glendale - Glendale. Raffi's Place Restaurant - Glendale - Glendale. Shekarchi Restaurant - Downtown - Los Angeles.
---