Restaurant
Pattern Bar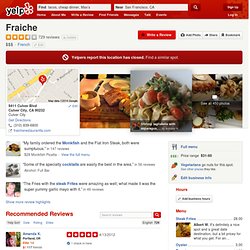 We came for an early dinner on a Sunday after making reservations on opentable.com. Since the restaurant didn't open until 5:30 and we had gotten there about 20 minutes early, we found oursevles having to get some drinks down the street at Ugo (we were a little disappointed that they wouldn't at least serve us drinks on the patio). When we were seated, we asked if it was possible to get a chef's tasting menu. Our server hesitated and then asked the chef; he reluctantly said it was OK and asked how many courses we wanted. We didn't really want to commit to a limit, but the chef insisted that we must, so we settled on seven courses.
Fraiche - Culver City - Culver City
Umami Burger | The Fifth Taste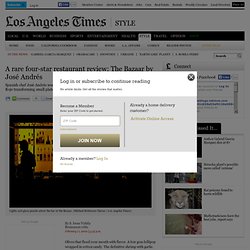 A rare four-star restaurant review: The Bazaar by José Andrés
Olives that flood your mouth with flavor. A foie gras lollipop wrapped in cotton candy. The definitive shrimp with garlic. Innocent-looking bites that shoot smoke out of your nostrils.
Welcome to Grub Restaurant
The Review: Ilan Hall's the Gorbals in downtown Los Angeles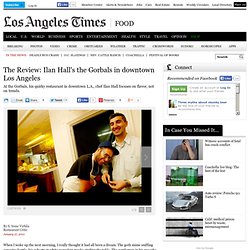 When I woke up the next morning, I really thought it had all been a dream. The goth mime sniffing our wine bottle, his cohorts in white porcelain masks circling the table. The gentleman in his 50s who strode in late with three women in his wake and sat next to us at the long communal table, a crude slab of hard wood that looked as if it had just come from the sawmill.
The service is very, very good. Don't be surprised by the somber/quiet/strict guy (the skinny one) who makes the kabobs (he usually brings it out to you, too). He's actually very cordial and polite.. and not a lush/fake/try to get customers type of a guy.
Moon Mart Kabab - Glendale - Glendale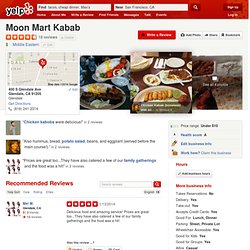 Raffi's Place Restaurant - Glendale - Glendale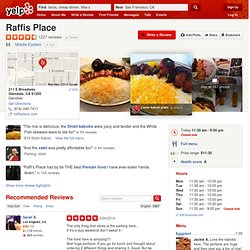 This was the first time I've ever been to a real Persian/Iranian Restaurant that was actually somewhat nice rather than a fast food type place. I went here with a friend and split a Chicken Soltani Kabob and an order of Hummus. The portions here are quite big and actually filled the two of us up quite well for dinner. Hummus: Very good hummus, not the best in my opinion as I think Joe's Falafal in Hollywood has better hummus, but it definitely was not bad, very good with lavash bread. Chicken Soltani Kabob: This dish comes with a skewer of Chicken Barg Kabob and a skewer of Chicken Koobideh Kabob served with Basmati rice with a grill tomato and grilled green pepper. To me a sign of a good restaurant is usually how detailed they are with the basic stuff, places with good bread and good rice usually have good dishes, and the basmati rice here is fantastic, they give the good rice here the nice high quality aged rice and I believe slow cooked with chicken stock.
Shekarchi Restaurant - Downtown - Los Angeles
The koobideh (ground meat) kebabs are the most popular selections. You can get beef koobideh, chicken koobideh, or a combination plate that includes both. They are tender and delectable. If you'd rather have grilled beef chunks as opposed to ground beef, then try the "barg kabob." This selection is prepared with tenderloin cuts of beef. It's as tender as fillet mignon.