Data
Get flash to fully experience Pearltrees
Thanks to the popularity of Apple's iPad and iPhone mobile devices, the Objective-C language has overtaken C++ in Tiobe's monthly assessment of programming language popularity . Objective-C, the language used for developing applications to run on Apple's mobile devices, was ranked the third most-popular language in the July edition of the Tiobe Programming Community Index, followed by C++ in fourth place. Released this week, the index has Objective-C used by 9.335 percent of developers and C++ used by 9.118 percent. The two languages swap rankings from last month, when C++ was used by 9.358 percent of developers and Objective-C by 9.094 percent. [ Tiobe's rankings recently came under fire from PHP advocate Andi Gutmans , CEO of Zend Technologies, who questioned their accuracy. | Learn how to work smarter, not harder with InfoWorld's roundup of all the tips and trends programmers need to know in the Developers' Survival Guide .
As technology has advanced over the past decade, cloud computing has revolutionized life for both businesses and individuals. Cloud computing allows users to store data, process information, and retain settings on a central server. This allows mission-critical data to be stored in a safe location. This prevents the accidental loss of data through fire, flood, theft or electrical glitches. A Little History of the Cloud
The economics of cloud computing are driving down the cost structure of business so far and so fast that it's scary, Google CIO Ben Fried says. "It deeply disturbed me … in 2006, 2007 consumer companies were forcing efficiencies on a scale never seen before," Fried said Thursday during remarks at the Bloomberg Link Enterprise Technology Summit in New York. Ben Fried/Bloomberg News
The move to big data is afoot. Recently, Yahoo and Google both tossed their very big hats into the ring, and the cloud computing leaders are already offering access to big data services. It's becoming the killer application for cloud computing, and I believe it will drive a tremendous amount of growth in 2012 and 2013. However, with any shift in technology, there are those who win and those who lose.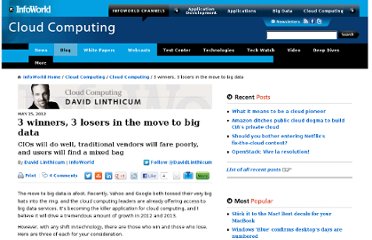 Yesterday, Microsoft's Dave Campbell, a Technical Fellow on the SQL Server team, posted to the SQL Server team blog on the subject of in-memory database technology. Mary Jo Foley, our "All About Microsoft" blogger here at ZDNet, provided some analysis on Campbell's thoughts in a post of her own . I read both, and realized there's an important Big Data side to this story.
HBaseCon 2012 is nearly a month away, and if the conference agenda and attendee registration numbers are good indicators, this will be an annual event you won't want to miss. Apache HBase is an open source software project that provides users with the ability to do real-time random read/write access to their data in Apache Hadoop. This means that when you want to use Hadoop for real-time data processing, HBase is the project you are looking for. The HBase developer community includes contributors from many organizations such as StumbleUpon, Facebook, Salesforce.com, TrendMicro, eBay, Explorys, Huawei and Cloudera.
It isn't every day you get to write about Immanuel Kant and Big Data in the same blog post but last week Gartner Analyst Will Cappelli did just that. As you'll see in his post, " AI and IAM: Will Two-Tier Analytics Become the Norm for IAM? " context is the key. Cappelli addresses Kant's conclusion that human reasoning is a two-tier process that first involves what is—the contextual lens in which we view our existence—and how the pieces all relate to each other.
SINGAPORE--"Ultraviolet data", or information that is not captured by companies currently, is the key to social media marketing and, particularly, in helping companies understand one's audience better. However, the challenge is in extracting and pulling the data together to gain relevant insights. That was the view of Marshall Sponder, founder of WebMetrics Guru, who was a keynote speaker at the Asia-Pacific ICT Summit held here on Tuesday. Ultraviolet data, according to him, is defined as information that companies cannot see and may not know to capture , much of which is generated by online users on social media platforms.
Data Management Functions