Big Data
Real-time Discovery Engine - YourVersion: Discover Your Version of the Web™
Trends. Notable Experts. Abadi. Big data. Big data[1][2] is the term for a collection of data sets so large and complex that it becomes difficult to process using on-hand database management tools or traditional data processing applications.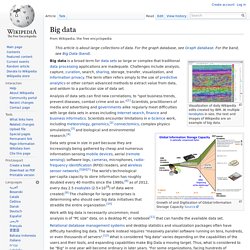 The challenges include capture, curation, storage,[3] search, sharing, transfer, analysis[4] and visualization. The trend to larger data sets is due to the additional information derivable from analysis of a single large set of related data, as compared to separate smaller sets with the same total amount of data, allowing correlations to be found to "spot business trends, determine quality of research, prevent diseases, link legal citations, combat crime, and determine real-time roadway traffic conditions. What is big data? Big data is data that exceeds the processing capacity of conventional database systems.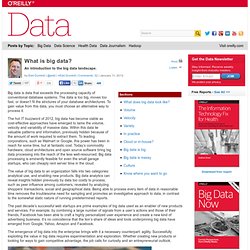 The data is too big, moves too fast, or doesn't fit the strictures of your database architectures. To gain value from this data, you must choose an alternative way to process it. As Chief Yahoo Resigns, Can Big Data Save Stumbling Company? Author: Linda RosencranceSpotfire Blogging Team Yesterday, Yahoo co-founder Jerry Yang resigned from the board of directors and all other positions at the troubled company.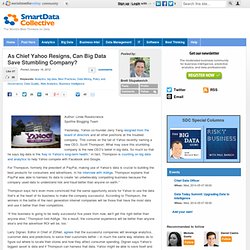 This comes on the tail of Yahoo recently naming a new CEO, Scott Thompson. What may save this stumbling company is the new CEO's belief in big data. So much so that he says big data is the "key to Yahoo's long-term health." Microsoft Releases Hadoop Connector CTPs for SQL Server. News Microsoft Releases Hadoop Connector CTPs for SQL Server Microsoft released two community technology preview (CTP) test versions of its Hadoop connectors today, one that works with Microsoft's current flagship SQL Server and other with its data warehouse product.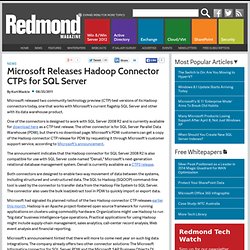 One of the connectors is designed to work with SQL Server 2008 R2 and is currently available for download here as a CTP test release. The other connector is for SQL Server Parallel Data Warehouse (PDW), but there's no download page. DataScientistProfession.
---