Metrics and tendancies
Mark McLaughlin: Audiences Don't Pay for Content. The media industry needs to get healthy but we won't get there if we think about the Internet as the reason that consumers have stopped paying for content.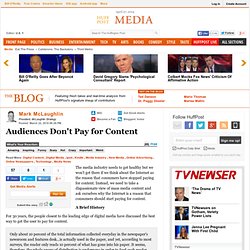 Instead, we need to take a dispassionate view of mass media content and ask ourselves why the Internet is a reason that consumers should start paying for content. A Brief History For 30 years, the people closest to the leading edge of digital media have discussed the best way to get the user to pay for content. Tous les chiffres de l'Internet en France (Jacques FROISSANT Alt. A day in the Internet (image) Facebook-comparatif-twitter.jpg (Image JPEG, 1024x832 pixels)
Un bilan des tendances observées en 2009 en demi-teinte pour le. L'institut d'études marketing GfK Retail & Technology fournit un éclairage sur les tendances observées en 2009 et sur les perspectives pour l'année en cours.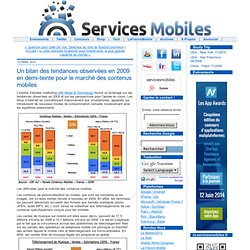 Les férus d'Internet se convertissent massivement aux smartphones, appareils qui introduisent de nouveaux modes de consommation nomade, bouleversant ainsi les équilibres préexistants. Les difficultés pour le marché des contenus mobiles Les contenus de personnalisation du mobile, que sont les sonneries et les images, ont vu leurs ventes reculer à nouveau en 2009. En effet, les terminaux, qui peuvent désormais accueillir des fichiers aux formats standards (photo JPEG, audio MP3, etc.), sont venus se substituer aux téléchargements de ces contenus spécifiquement conçus pour les mobiles. Web & Social Media Infographics. I-marginal - Contenus et contenants hypermédias. Blogs, réseaux. M-commerce : le marché français est-il prêt ? Cet article a été posté par Lionel Damm le 23 avril 2010 à 9:03 L'Arcep annonce qu'il y aurait 61,5 millions de téléphones mobiles en France en décembre 2009. !
Devant l'explosion du marché et de l'internet mobile en France, les acteurs économiques sont-ils.
---