Soft
View Forum - Klee sequencer. HOME | HARDWARE AND SOFTWARE FOR MUSICIANS, Forum Reaktor Francophone - Iceweasel. KORE SOUNDPACKS : REAKTOR ELECTRONIC INSTRUMENTS 2 : OVERVIEW | REAKTOR is a world-class studio right out of the box.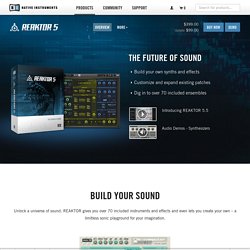 The library includes more than 70 ready-to-use instruments and effects created by Native Instruments and our network of instrument designers, with several thousands of presets for an incredibly wide range of sound generation and audio processing applications. You'll find a stunning variety of synthesizers, grooveboxes, sequencers, sample transformers, sound generators, sample players, and effects, providing nearly any synthesis, sampling and effects technique you can imagine. From classic synthesis and sample techniques up to exotic methods such as delay-line resonance, modal or granular synthesis - REAKTOR is capable of fulfilling all of your audio desires - there are no boundaries to your creativity. Community : Reaktor User Library - Icewease.
Reaktor Tips: tutorial. Back in the day when I was blogging at the now-defunct kore.noisepages.com, I did a series on the inner structure of a basic sequencer macro, one that could be easily adapted for many uses.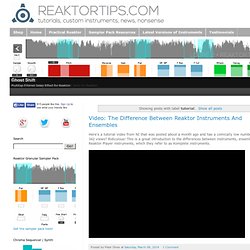 Those posts have vanished into the bit-ether, so I'm rebooting the topic with a revised macro and an ensemble that shows how to use it. And here it is! Download link. Cycling 74 - Tools for Media. MDrummer Virtual Drummer, free drum VST plug-in, VST/Standalone.
---