DSP
This article explains how to use the DSP in OMAP3 at BeagleBoard using the bridge driver kernel module. For DSP tool chain see C64x+ DSP . DSP Bridge driver provides features to control and communicate with DSP enabling parallel processing for multimedia acceleration. It enables the applications running on MPU to offload the processing to DSP [1] .
BeagleBoard/DSP Howto - eLinux.org - Iceweasel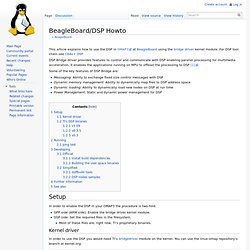 FFT Implementation With No Data Scaling - Texas Instruments Embedded Processors Wiki - Iceweasel
From Texas Instruments Embedded Processors Wiki Translate this page to Introduction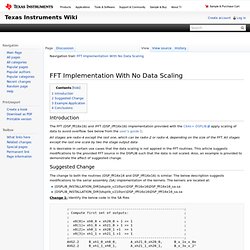 OMAP-L138/C6748 SDK - Iceweasel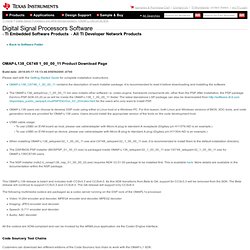 Please start with the Getting Started Guide for complete installation instructions. OMAP-L138_C6748_1_00_00_11 contains the description of each installer package. It is recommended to read it before downloading and installing the software The OMAP-L138_setuplinux_1_00_00_11.bin also installs other software i.e. codec engine, framework components etc. other than the PSP.
Guitar Pitch Shifter - Introduction - Iceweasel