Dev
OpenGl - Tutorial 08 : LookAt - Split - Clipping
The page you are looking for might have been removed, had its named changed, or is temporarily unavailable. Please try the following: If you typed the page address in the Address bar, make sure that it is spelled correctly. Open the www.pitt.edu home page, and then look for links to the information you want.
FTGL and MinGW32 | Linux Stuff | Mike's Computer Corner - Icewea
NeHe Productions: OpenGL Lesson #42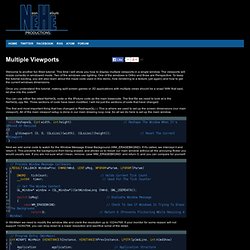 Welcome to another fun filled tutorial. This time I will show you how to display multiple viewports in a single window. The viewports will resize correctly in windowed mode. Two of the windows use lighting. One of the windows is Ortho and three are Perspective. To keep the tutorial exciting, you will also learn about the maze code used in this demo, how rendering to a texture (yet again) and how to get the current windows dimensions.
Nate Robins - OpenGL - Tutors
OpenGL Programming Guide or 'The Red Book' About This Guide Chapter 1: Introduction to OpenGL Chapter 2: Drawing Geometric Objects Chapter 3: Viewing Chapter 4: Display Lists Chapter 5: Color Chapter 6: Lighting Chapter 7: Blending, Antialiasing, and Fog Chapter 8: Drawing Pixels, Bitmaps, Fonts, and Images Chapter 9: Texture Mapping Chapter 10: The Framebuffer Chapter 11: Evaluators and NURBS Chapter 12: Selection and Feedback Chapter 13: Now That You Know Appendix A: Order of Operations Appendix B: OpenGL State Variables Appendix C: The OpenGL Utility Library Appendix D: The OpenGL Extension to the X Window System Appendix E: The OpenGL Programming Guide Auxiliary Library Appendix F: Calculating Normal Vectors Appendix G: Homogeneous Coordinates and Transformation Matrices Appendix H: Programming Tips Appendix I: OpenGL Invariance Appendix J: Color Plates Glossary (not included in this version)
This article is about a MVC (Model-View-Controller) framework to create OpenGL GUI applications on Windows platform. MVC architecture is a common design framework for GUI applications, and is used in many GUI libraries, such as .NET, MFC, Qt, Java, etc. The major benefits of this MVC framework are the complete separation of system-independent OpenGL calls from Windows system and the universal message router for multiple windows.
OpenGL GUI Application - Iceweasel
OpenVG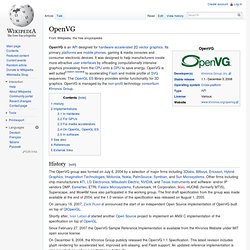 OpenVG is an API designed for hardware-accelerated 2D vector graphics . Its primary platforms are mobile phones , gaming & media consoles and consumer electronic devices. It was designed to help manufacturers create more attractive user interfaces by offloading computationally intensive graphics processing from the CPU onto a GPU to save energy. OpenVG is well suited [ citation needed ] to accelerating Flash and mobile profile of SVG sequences. The OpenGL ES library provides similar functionality for 3D graphics.
project
1. Introduction AmanithVG is a commercial implementation of OpenVG 1.1 and 1.0.1 , the application programming interface (API) for hardware accelerated 2D vector and raster graphics, created by the Khronos group . Born as a "OpenVG on OpenGL / OpenGL ES" engine, AmanithVG evolved into two different OpenVG graphic libraries.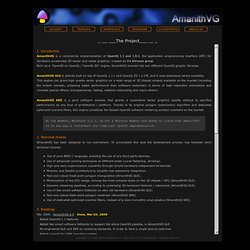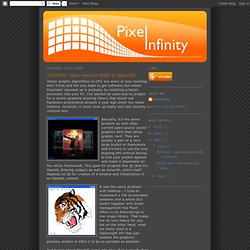 Vector graphic algorithms on CPU are more or less reaching their limits and the only hope to get software like Adobe Illustrator speeded up is probably by installing a faster processor into your PC. I've started an open-source project for a vector-graphics drawing library that would use hardware acceleration already a year ago under the name libShiva. However, it never took up really well and recently I realized why. Basically, it's the same problem as with other current open-source vector-graphics APIs that utilize graphic card. They are usually a part of a very large toolkit or framework and it's hard to use the sole drawing API without having to link your project against and make it dependent on the whole framework.
ShivaVG: open-source ANSI C OpenVG
sauvage sauvage is a Python library that displays SVG graphics using OpenGL , and is used to implement demanding interaction techniques, such as ZUI , or see-through tools . It is available on unix platforms (Linux, MacOSX) and should work on Windows, under the LGPL license. sauvage is build upon svgl concepts (a previous library I wrote in c++), but does not use code from it. Instead, sauvage is written in python, as it allows easier modification when I have new ideas on how to implement things (no compilation, no static typing when I don't need it, etc.). The goal is to design a library for OpenGL and have fast and high quality zooming features.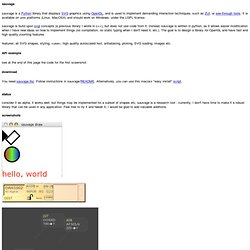 sauvage - Iceweasel