Data visualisation
Get flash to fully experience Pearltrees
Cascade allows for precise analysis of the structures which underly sharing activity on the web. This first-of-its-kind tool links browsing behavior on a site to sharing activity to construct a detailed picture of how information propagates through the social media space. While initially applied to New York Times stories and information, the tool and its underlying logic may be applied to any publisher or brand interested in understanding how its messages are shared. Cascade was developed by R&D using open source tools including Processing and MongoDB . <p style="text-align:right;color:#A8A8A8"></p>
Nous sommes de plus en plus submergés par la profusion d'apps disponibles pour l'iPhone, l'iPod, l'iPad. Il y a ceux qui resteront à l'écart de ce raz-de-marée, et puis les nouveaux explorateurs, presque des addicts, à la recherche de la toute dernière application qui vient de sortir ou pour en tester un maximum. Nous avions déjà parlé de Frenzapp .
Un article de Wikipédia, l'encyclopédie libre. Cet article propose une . Attention toutefois, les noms de couleur n'ont aucune valeur contractuelle, en particulier dans les domaines de l'imprimerie, de la décoration, des arts graphiques, etc. Chaque profession ayant à traiter les couleurs a développé des systèmes internes qui permettent aux clients et prestataires d'utiliser les mêmes codes : Système Pantone dans l'imprimerie, RAL dans la peinture en bâtiment, Colour Index dans le domaine des beaux-arts, etc.
Un article de Wikipédia, l'encyclopédie libre. Rouge vert bleu , abrégé RVB , est un format de codage des couleurs . Ces trois couleurs sont les couleurs primaires en synthèse additive .
Un article de Wikipédia, l'encyclopédie libre. mélange de rouge, jaune et bleu Le système rouge jaune bleu (RJB, RYB en anglais) est un des systèmes de couleur utilisé en peinture , en design , en décoration et basé non pas sur des erreurs d'interprétation de la théorie de la couleur de Isaac Newton présenté dans son ouvrage Opticks , mais sur le système de Jacques Christophe Leblon qui établit la règle de la trichromie à la fin du XVII e siècle, où il écrit que les "couleurs primitives" comme suit " jaune et rouge donne orangé, rouge et bleu font le pourpre et le violet , le bleu et le jaune font le vert." Il convient alors de parler de synthèses soustractives au pluriel, suivant les matériaux colorants utilisés, les nuanciers et les cercles chromatiques utilisés.
Qu'est ce qu'une couleur Répondre à la question "Qu'est-ce qu'une couleur ?" n'est pas simple. Combien y a-t-il de couleurs ?
On va découvrir dans ce chapitre que la lumière et la couleur sont intimement liées. On entre pas à pas dans les secrets de la théorie des couleurs, en suivant les étapes chronologiques des plus grandes découvertes sur la lumière et la couleur. on y rencontrera les notions de base de la colorimétrie et des concepts importants sur la couleur afin d'aborder plus facilement les chapitres suivants. <object classid="clsid:D27CDB6E-AE6D-11cf-96B8-444553540000" codebase="http://download.macromedia.com/pub/shockwave/cabs/flash/swflash.cab#version=9,0,28,0" width="499" height="318" title="Lumi&egrave;re et couleurs"><param name="movie" value="000-lumiere-couleur/lumiere-couleur.swf"><param name="quality" value="high"><embed src="000-lumiere-couleur/lumiere-couleur.swf" quality="high" pluginspage="http://www.adobe.com/shockwave/download/download.cgi?
The art of data visualization
The moment many of you have been waiting for arrived yesterday: Last.fm revealed the top ten of our Best of 2010 list . This year Ke$ha crashed into the number one spot, stealing the crown from 2009's winner Lady Gaga . She's proven practically untouchable in the race to the top too, clocking up an astonishing 15.9 million scrobbles over the year with her January 2010 release Animal . She took over 4 million more than the runner-up, Mumford & Sons , and if you look at the stream graph of the most-played music month-by-month you'll see she's been a permanent fixture. In my opinion, however, the even more exciting bit is that we're also making the underlying data available for anyone to download.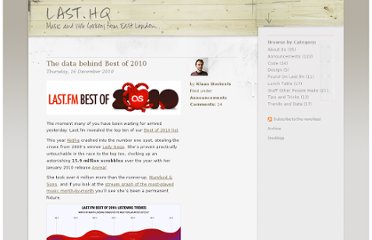 What happened to the former USSR? Click image for graphic They were three days that shook the world - and shook the Soviet Union so hard that it fell apart. But for better or worse? Twenty years on from the Soviet coup that ultimately ended Mikhail Gorbachev 's political career and gave birth to 15 new states, The Guardian was keen to explore just how well those 15 former Soviet republics had performed as independent countries. Our data team mined statistics from sources ranging from the World Bank, the UNHCR, the UN Crime Trends Survey and the Happy Planet Index to compare the performance of the countries.