Tips
6 Essentials to Setting Up Your Illustrator Documents. A quick thanks to Josh Bunts who suggested this post on Go Media's Facebook page.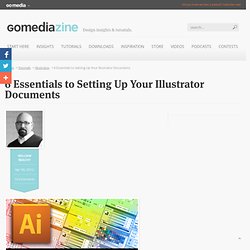 Technically, he asked for advice on "…document set up and color pallets." I thought I should expand the post to speak generally about all things Illustrator pre-work. 1. When setting up your document specs, keep the end in mind When creating a new Illustrator document, the very first thing you'll be confronted by is the New Document (profile) window that asks you a bunch of questions. 6 Tips to Making Great Flyers. In the modern world, we are constantly bombarded with media messages.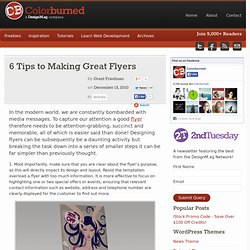 To capture our attention a good flyer therefore needs to be attention-grabbing, succinct and memorable, all of which is easier said than done! Designing flyers can be subsequently be a daunting activity but breaking the task down into a series of smaller steps it can be far simpler than previously thought. 1. Most importantly, make sure that you are clear about the flyer's purpose, as this will directly impact its design and layout. Resist the temptation overload a flyer with too much information. Before & After magazine. Tutorial: How to extract a colour scheme from a photograph | fudgegraphics | for lovers. Today I picked up on a neat little trick on how to extract a colour palette from a photograph.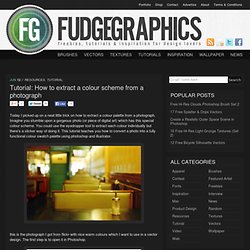 Imagine you stumble upon a gorgeous photo (or piece of digital art) which has this special colour scheme. You could use the eyedropper tool to extract each colour individually but there's a slicker way of doing it. This tutorial teaches you how to convert a photo into a fully functional colour swatch palette using photoshop and illustrator. this is the photograph I got from flickr with nice warm colours which I want to use in a vector design. The first step is to open it in Photoshop.
---