Lightroom tuts
Lightroom 4 Fundamentals with Laura Shoe
Photoshop has a feature called Actions.
Using Photoshop Actions as Droplets in Lightroom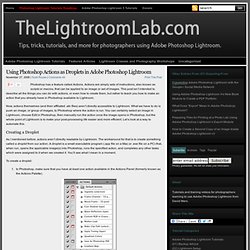 free Plug-in (donation ware)
Lightroom is all about good, organized workflow practices that are easy and efficient to use. Whether you're a working photographer faced with the task of selecting and editing from thousands of photos before a deadline or an enthusiastic amateur wanting to maximize shooting time, Lightroom offers a few useful ways to speed things up. Of all the different methods available, arguably the most powerful is the use of keyboard shortcuts.
The Photographers Toolbox – Lightroom Keyboard Tips | X-Equals - image, workflow, technology, business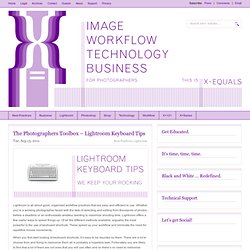 Adobe Lightroom/Black and White techniques
5 Creative borders for Lightroom
We all know of the litany of plug-ins available to Lightroom. There are export plug-ins, Metadata plug-ins and external editor plug-ins. All of these tools extend the capabilities of Lightroom, allowing more control over your images and pertinent metadata.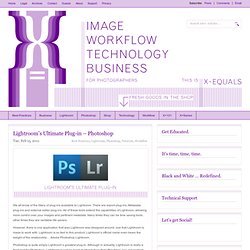 Lightroom's Ultimate Plug-in – Photoshop | X-Equals - image, workflow, technology, business
Lightroom Tips | Adobe Photoshop Lightroom Killer Tips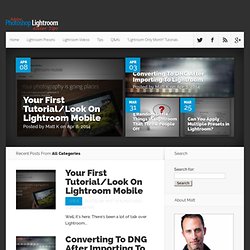 Happy (kinda) 8th Birthday Lightroom! Hey everyone.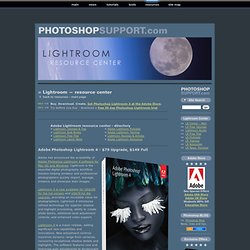 Adobe Lightroom Tutorials & News - Photoshop Lightroom Resource Center
Adobe Photoshop Lightroom 4 - $79 Upgrade, $149 Full Adobe has announced the availability of Adobe Photoshop Lightroom 4 software for Mac OS and Windows. Lightroom is the essential digital photography workflow solution helping amateur and professional photographers quickly import, manage, enhance and showcase their images.
Photoshop Lightroom 2 launch at PhotoshopCAFE. Lightroom 2 learning site.
Adobe has announced the shipping of Lightroom 2!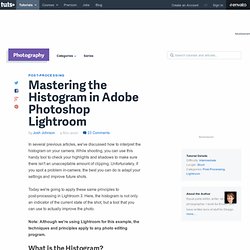 Mastering the Histogram in Adobe Photoshop Lightroom
In several previous articles, we've discussed how to interpret the histogram on your camera. While shooting, you can use this handy tool to check your highlights and shadows to make sure there isn't an unacceptable amount of clipping. Unfortunately, if you spot a problem in-camera, the best you can do is adapt your settings and improve future shots. Today we're going to apply these same principles to post-processing in Lightroom 3.
Creative Beacon Lightroom