Lightroom tuts
Lightroom 4 Fundamentals with Laura Shoe. Loaded: 0% Progress: 0% Learn the fundamentals of Adobe Lightroom in three days.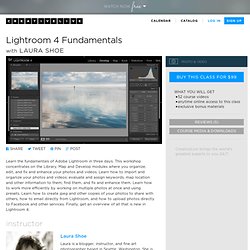 This workshop concentrates on the Library, Map and Develop modules where you organize, edit, and fix and enhance your photos and videos. Learn how to import and organize your photos and videos; evaluate and assign keywords, map location and other information to them; find them, and fix and enhance them. Learn how to work more efficiently by working on multiple photos at once and using presets.
Using Photoshop Actions as Droplets in Lightroom. Photoshop has a feature called Actions.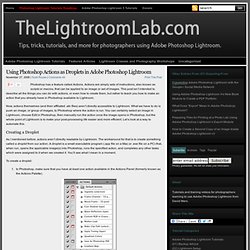 Actions are simply sets of instructions, also known as scripts or macros, that can be applied to an image or set of images. This post isn't intended to describe all the things you can do with actions, or even how to create them, but rather to teach you how to make an action that you already have in Photoshop available to Lightroom. Now, actions themselves (and their affiliated .atn files) aren't directly accessible to Lightroom.
Lightroom Blog & Forum
Free Plug-in (donation ware) The Photographers Toolbox – Lightroom Keyboard Tips | X-Equals - image, workflow, technology, business. Lightroom is all about good, organized workflow practices that are easy and efficient to use.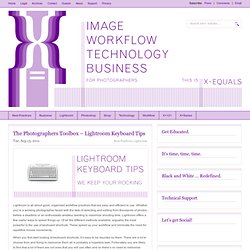 Whether you're a working photographer faced with the task of selecting and editing from thousands of photos before a deadline or an enthusiastic amateur wanting to maximize shooting time, Lightroom offers a few useful ways to speed things up. Of all the different methods available, arguably the most powerful is the use of keyboard shortcuts. Adobe Lightroom/Black and White techniques. Adobe Lightroom. Lightroom Tutorials. 5 Creative borders for Lightroom. Lightroom's Ultimate Plug-in – Photoshop | X-Equals - image, workflow, technology, business. We all know of the litany of plug-ins available to Lightroom.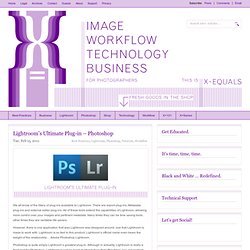 There are export plug-ins, Metadata plug-ins and external editor plug-ins. All of these tools extend the capabilities of Lightroom, allowing more control over your images and pertinent metadata. Lightroom Tips | Adobe Photoshop Lightroom Killer Tips. Your First Tutorial/Look On Lightroom Mobile Well, it's here.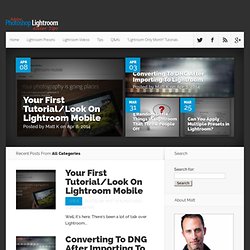 There's been a lot of talk over Lightroom Mobile since Photoshop World Vegas 2013 (when Adobe first gave everyone a sneak peak). Now it's here and I wanted to put together a quick tutorial for you. Also, don't forget that I did a full Learning Center with 8 videos over at KelbyOne and if you're a subscriber, those videos are always in the subscriber area for you to check out. 1. Getting Lightroom Mobile Up and Running First, you'll need to download and install the app on your iPad.
Adobe Lightroom Tutorials & News - Photoshop Lightroom Resource Center. Adobe Photoshop Lightroom 4 - $79 Upgrade, $149 Full Adobe has announced the availability of Adobe Photoshop Lightroom 4 software for Mac OS and Windows.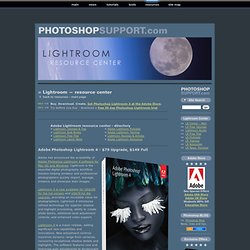 Lightroom is the essential digital photography workflow solution helping amateur and professional photographers quickly import, manage, enhance and showcase their images. Photoshop Lightroom 2 launch at PhotoshopCAFE. Lightroom 2 learning site. Adobe has announced the shipping of Lightroom 2!
It's $299 for first time buyers, or a $99 upgrade for current Lightroom users. Lightroom 2 was in public beta for several months. This allowed users to kick the tires a bit and offer suggestions to Adobe. Now that Lightroom 2 has matured and headed out into the big cruel world, lets see if it can survive in the wild. Mastering the Histogram in Adobe Photoshop Lightroom. In several previous articles, we've discussed how to interpret the histogram on your camera.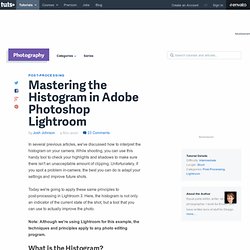 While shooting, you can use this handy tool to check your highlights and shadows to make sure there isn't an unacceptable amount of clipping. Unfortunately, if you spot a problem in-camera, the best you can do is adapt your settings and improve future shots. Today we're going to apply these same principles to post-processing in Lightroom 3. Creative Beacon Lightroom.
---