3D in Photoshop
Learn to draw a realistic golden box or how to make a golden foil with your own hands. Create Enigma Typography Poster Using Photoshop. Published on Thu, Feb-24-2011 by Nikolai In this tutorial we will go through the process of making this typography poster called "Enigma" only using Adobe Photoshop.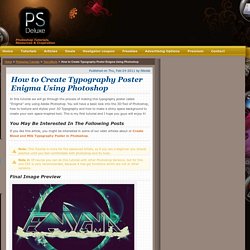 You will have a basic look into the 3D-Tool of Photoshop, how to texture and stylize your 3D Typography and how to make a shiny space background to create your own space-inspired text. Create Colorful 3D Text Effect in Photoshop. Published on Fri, Jul-02-2010 by Anant In this Photoshop tutorial you will learn how to create colorful 3D text effect.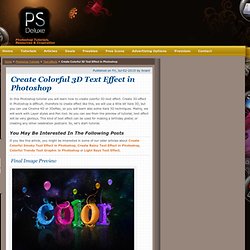 Create 3D effect in Photoshop is difficult, therefore to create effect like this, we will use a little bit Xara 3D, but you can use Cinema 4D or 3DsMax, so you will learn also some Xara 3D techniques. Mainly, we will work with Layer styles and Pen tool. How to Design the Print on a Milk Carton in Photoshop | Instatuts.com. Milk Box Print / Packaging Tutorial In this tutorial we'll learn how to create a milk box with a packaging design.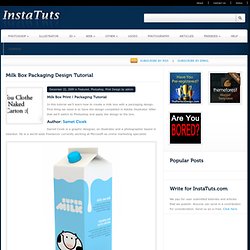 First thing we need is to have the design completed in Adobe Illustrator. Tutorial9 | Photoshop Tutorials, Photography Tuts, and Resources. Creative BeaconCreate a 3D Rainbow in Photoshop. With the addition of 3D in Photoshop, you can now create dazzling effects without using another program.
In this tutorial, you'll learn how to create a 3D rainbow from scratch, all inside of Photoshop. First, I am starting out with a black background, so that it will be easier to see what we are doing. Create a new layer, and take the elliptical marquee tool and create a series of landscape ovals.
---