3D Photography
Picture Gallery | Lytro. Light Field camera | Lytro. Lytro light field camera refocuses the future of photography – New Tech Gadgets & Electronic Devices. The world of photography is changing thanks to a new kind of camera introduced today by start-up company Lytro.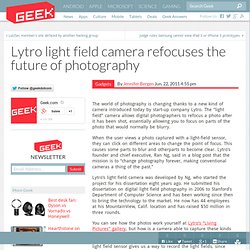 The "light field" camera allows digital photographers to refocus a photo after it has been shot, essentially allowing you to focus on parts of the photo that would normally be blurry. When the user views a photo captured with a light-field sensor, they can click on different areas to change the point of focus. This causes some parts to blur and otherparts to become clear. Lytro's founder and chief executive, Ran Ng, said in a blog post that the mission is to "change photography forever, making conventional cameras a thing of the past."
Lytro's light field camera was developed by Ng, who started the project for his dissertation eight years ago.
---