WebDesign
Time-Saving and Educational Resources for Web Designers - Smashing Magazine. Advertisement Web design community is strong and hard-working.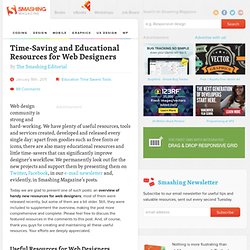 We have plenty of useful resources, tools and services created, developed and released every single day: apart from goodies such as free fonts or icons, there are also many educational resources and little time-savers that can significantly improve designer's workflow. We permanently look out for the new projects and support them by presenting them on Twitter, Facebook, in our e-mail newsletter and, evidently, in Smashing Magazine's posts. Today we are glad to present one of such posts: an overview of handy new resources for web designers; most of them were released recently, but some of them are a bit older.
Cleaning Up The Mess: How To Keep Your Coding Workflow Organized - Smashing Magazine. Oops, we used the word "organized" in the title.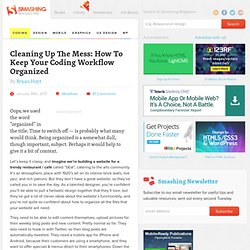 Time to switch off — is probably what many would think. Being organized is a somewhat dull, though important, subject. Perhaps it would help to give it a bit of context. Let's keep it classy, and imagine we're building a website for a trendy restaurant / café called "bEat", catering to the arts community. Showcase of Beautiful (or Creative) E-Commerce Websites - Smashing Magazine. Advertisement Designers are constantly striving to create eye-catching designs without losing the usability features that add significant importance to the experience of online shopping.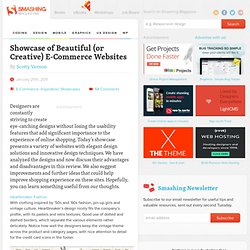 Today's showcase presents a variety of websites with elegant design solutions and innovative design techniques. We have analyzed the designs and now discuss their advantages and disadvantages in this review.
Web Design Manuals. CSS&Jquery. Design examples. Blog | Chris Coyier.
---