C/C++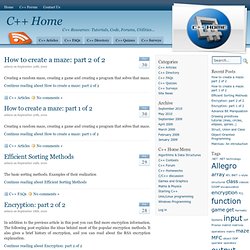 C++ Home
admin on September 19th, 2010 Data-encapsulation is key to the functionality of many high level or later generation programming languages such as C++ and Java. It is simply a means of creating "containers" called objects, and holding multiple variables of varying data types called member variables inside of those containers. C++ offers three methods of data-encapsulation; struct, union and class. This is where C++ become object oriented.
Any Unix-like operating system needs a C library: the library which defines the ``system calls'' and other basic facilities such as open, malloc, printf, exit... The GNU C Library is used as the C library in the GNU systems and most systems with the Linux kernel. The GNU C Library is primarily designed to be a portable and high performance C library. It follows all relevant standards including ISO C11 and POSIX.1-2008.
C Library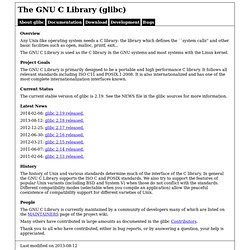 Morgan Stanley | Columbia University | Texas A&M University home | C++ | FAQ | technical FAQ | C++11 FAQ | publications | TC++PL | Tour++ | Programming | D&E | bio | interviews | applications | glossary | compilers I'm a Managing Director in the technology division of Morgan Stanley in New York City, a Visiting Professor in Computer Science at Columbia University, and a Distinguished Research Professor in Computer Science at Texas A&M University. I designed and implemented the C++ programming language. To make C++ a stable and up-to-date base for real-world software development, I stuck with its ISO standards effort for 20+ years (so far). Writings: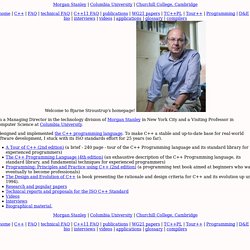 Boost provides free peer-reviewed portable C++ source libraries. We emphasize libraries that work well with the C++ Standard Library. Boost libraries are intended to be widely useful, and usable across a broad spectrum of applications. The Boost license encourages both commercial and non-commercial use. We aim to establish "existing practice" and provide reference implementations so that Boost libraries are suitable for eventual standardization. Ten Boost libraries are included in the C++ Standards Committee's Library Technical Report (TR1) and in the new C++11 Standard.