Sysadmin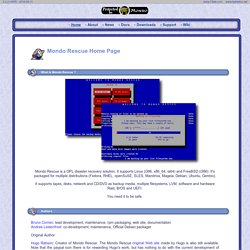 Mondo Rescue - GPL disaster recovery solution
What is Mondo Rescue ? Mondo Rescue is a GPL disaster recovery solution. It supports Linux (i386, x86_64, ia64) and FreeBSD (i386).
rsnapshot
rsnapshot is a filesystem snapshot utility for making backups of local and remote systems. Using rsync and hard links, it is possible to keep multiple, full backups instantly available. The disk space required is just a little more than the space of one full backup, plus incrementals. Depending on your configuration, it is quite possible to set up in just a few minutes. Files can be restored by the users who own them, without the root user getting involved. There are no tapes to change, so once it's set up, your backups can happen automatically untouched by human hands.
Zenoss Community
OpenVAS is a framework of several services and tools offering a comprehensive and powerful vulnerability scanning and vulnerability management solution. Discover OpenVAS Learn what OpenVAS is and read more about the features of our solution! About OpenVAS » Reliable and Sustainable The powerful and comprehensive OpenVAS solution is available as Free Software and maintained on a daily basis.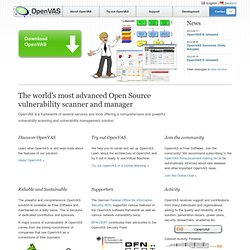 Open Vulnerability Assessment System