Space
Name a star after someone and buy a star at StarNamer. Dedicate A Star | Name a Star for Someone Special! - StarRegistryGifts.com. Dedicate A Star Your gift is truly eternal when you name a star for that special someone.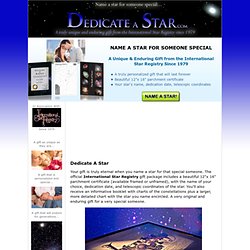 The official International Star Registry gift package includes a beautiful 12"x 16" parchment certificate (available framed or unframed), with the name of your choice, dedication date, and telescopic coordinates of the star. Name a Star. Naming a star for someone special and give them the gift of a lifetime.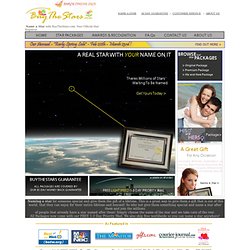 This is a great way to give them a gift that is out of this world, that they can enjoy for their entire lifetime and beyond! So why not give them something special and name a star after them and join the millions of people that already have a star named after them! Simply choose the name of the star and we take care of the rest. Name A Star Live for Mother's Day - Buy & Register A Star Today. International Star Registry: Name a Star for Someone Special | Unique Birthday Gift - Buy a Star Name Today.
The Lunar Embassy. Buy Moon Property - Lunar Real Estate - Moon Land For Sale. MoonShop - How to get a property on the Moon! The Moon Shop! Purchase Moon Land - Authorized Lunar Embassy Agent.
---