Space
- The Most Treasured Gifts In The Universe Are Here! Everyone loves having a star named after them! We have named thousands of stars for all sorts of people - Friends, Lovers, Parents, Children, Etc. And stars are always guaranteed to please. Whatever the occasion, naming a star for someone is the most imaginative way to show you care. See how impressed and appreciative that special someone will be when he or she receives such an unusual and creative gift from you.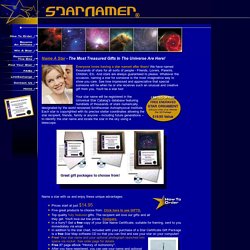 Name a star after someone and buy a star at StarNamer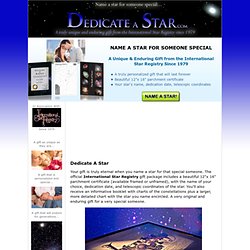 Dedicate A Star | Name a Star for Someone Special! - StarRegistryGifts.com
Dedicate A Star Your gift is truly eternal when you name a star for that special someone. The official International Star Registry gift package includes a beautiful 12"x 16" parchment certificate (available framed or unframed), with the name of your choice, dedication date, and telescopic coordinates of the star.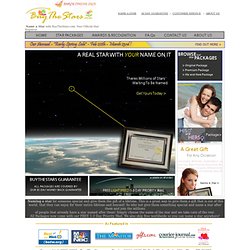 Name a Star
Naming a star for someone special and give them the gift of a lifetime. This is a great way to give them a gift that is out of this world, that they can enjoy for their entire lifetime and beyond! So why not give them something special and name a star after them and join the millions of people that already have a star named after them! Simply choose the name of the star and we take care of the rest.
Name A Star Live for Mother's Day - Buy & Register A Star Today
Starting at $19.95, Name A Star Live is a wonderful, timeless gift that people everywhere give for any occasion. Everyone loves having a star named† after them. Naming a star is a meaningful & symbolic gift - perfect for Valentine's Day, Christmas, Hanukkah, graduations, a birthday, anniversary, baby shower, thanks to a client or top employee, or just a fun & touching way to say "you're special." Only at Name A Star Live: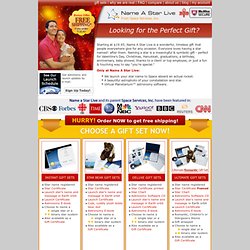 International Star Registry: Name a Star for Someone Special | Unique Birthday Gift - Buy a Star Name Today
Welcome to the International Star Registry! Buy and name a star for any occasion right from this site. As the original star naming company, we have been naming stars for people since 1979. Celebrities, dignitaries, and individuals all over the world have used our services to buy a star for friends and family. Flowers, cards, and candy are nice; when you name a star for a loved one, your gift will stand the test of time.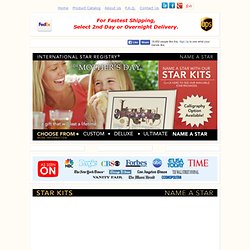 The Lunar Embassy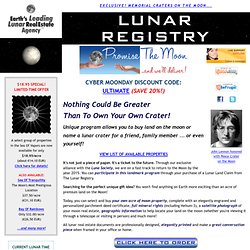 Buy Moon Property - Lunar Real Estate - Moon Land For Sale
Unique program allows you to buy land on the moon or name a lunar crater for a friend, family member ... or even yourself! It's not just a piece of paper. It's a ticket to the future.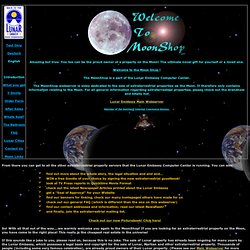 MoonShop - How to get a property on the Moon! The Moon Shop!
From there you can get to all the other extraterrestrial property servers that the Lunar Embassy Computer Center is running. You can also Check out our new Picturebook! Click here! So! With all that out of the way....we warmly welcome you again to the MoonShop!
Purchase Moon Land - Authorized Lunar Embassy Agent
• an excellent gift • potential prudent investment • an interesting and great conversation piece Limited time only! We are proud to be able to offer the Northwest portion of the Sea of Tranquility near the Crater Arago!