Green Energy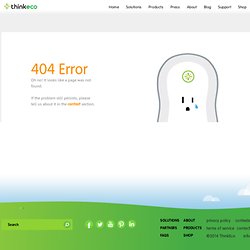 Got a new gateway? First, look at the back side of the box, and see if you have an ethernet or 3G gateway. If you have an ethernet gateway: Connect your ThinkEco Gateway to your home or office router using the included ethernet cable, then plug in the gateway power cable. If you have a 3G gateway: Make sure the Verizon 3G dongle is plugged in and then plug in the gateway power cable. Once that's done, enter the ethernet MAC from the back label of your gateway. close
Products : ThinkEco
Solar Solutions | SunSource Home Energy System | Lennox Residential
Carbon offsets
Alternative & Renewable Energy - ABS Alaskan
ABS Renewable Energy BlogKeep up with the latest news from ABS Alaskan, on our site or via RSS feed! Find out about our latest projects and products. Keep abreast of alternative energy tax programs and intertie incentives. Get first notice of new website features.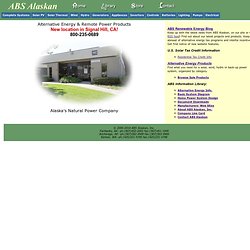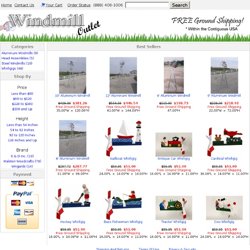 Shop Metal Windmills and Wood Windmills - Windmill Outlet
Home Contact Us Your Cart Order Status Categories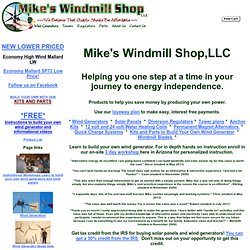 Mikes Windmill Shop
Mike's Windmill Shop,LLC Helping you one step at a time in your journey to energy independence. Products to help you save money by producing your own power.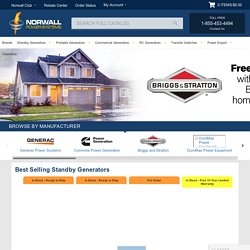 Norwall PowerSystems was established in 1997. Our company specializes in the Sale of Emergency Backup Power Generators and Associated Equipment. We sell and support: Generac Power Systems, Briggs & Stratton, Kohler Power Systems, Onan, Kubota, Esco, IPI, Tiny Tach, Westerbeke Marine and Westinghouse.
NPS: Home Standby Generators | Portable Generators | Diesel Generators | Propane Generators | Natural Gas Generators | Guardian Generators | Electric Generators | RV Generators | Home Generators | Norwall PowerSystems
Wind Turbines :: Industrial Neodymium Magnets||NdFeB||Magnetic...
Solar panels for your home or business. Solar panels lowest prices in the world.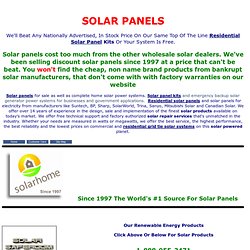 During A Power Outage Have Air Conditioning And Emergency Power For TV, Lights, Microwave, Computers, Refrigerator And More. And Qualify For A 30% Federal Tax Credit And A Cash Rebate In Many States While Reducing Your Electric Bill. Click Here For System Descriptions And Pricing
Store - Affordable Solar - Solar Panels, Kits, Residential Solar , Inverters, Charge Controllers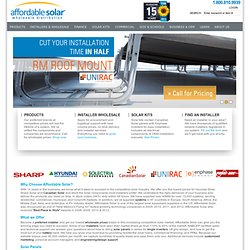 With 14 years in the business, we know what it takes to succeed in the competitive solar industry. We offer you the lowest prices for Hyundai Solar, Sharp Solar and Canadian Solar and stock the solar components most installers prefer. We understand the daily demands of your business and deliver the products you need on time. In stock orders (94%) ship within 48 hours. We have supplied over 40MW for over 15,000 systems, serving residential, commercial, municipal, and nonprofit markets. In addition, we've supplied systems in 97 countries in Europe, South America, Africa, the Middle East, Asia, and Antarctica.
Solar power is the ultimate renewable energy source whether you're an eco-minded consumer or practical individualist. The sun's light is sustainable energy that provides a resource that is renewable and has a very low carbon footprint. Solarhome is a premier provider of reliable, durable, proven photovoltaic systems from leading manufacturers, allowing you to harness this free energy alternative.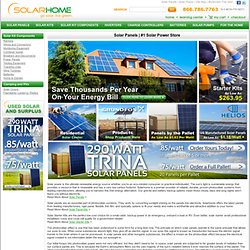 Solar Panels, Pallets and Solar Kits