Free Pascal - FPC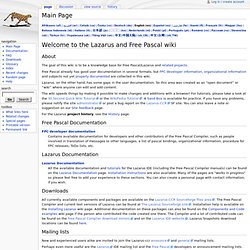 Main Page - Lazarus wiki
Afrikaans (af) | العربية (ar) | Català (ca) | Česky (cs) | Deutsch (de) | English (en) | Español (es) | فارسی (fa) | Suomi (fi) | Français (fr) | Magyar (hu) | Bahasa Indonesia (id) | Italiano (it) | 日本語 (ja) | 한국어 (ko) | Nederlands (nl) | Polski (pl) | Português (pt) | Română (ro) | Русский (ru) | Slovenčina (sk) | Türkçe (tr) | Українська (uk) | Tiếng Việt (vn) | ‪中文(中国大陆)‬ (zh_CN) | ‪中文(台灣)‬ (zh_TW) About The goal of this wiki is to be a knowledge base for Free Pascal/Lazarus and related projects. Free Pascal already has good user documentation in several formats, but FPC developer information, organizational information and subjects not yet properly documented are collected in this wiki. Lazarus, on the other hand, has some gaps in the user documentation. So this area was created as an "open document" or "wiki" where anyone can edit and add content.
Welcome To Pascal for Programming Illiterates!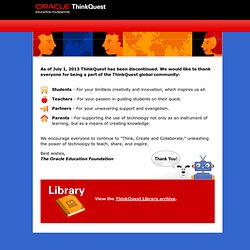 As of July 1, 2013 ThinkQuest has been discontinued. We would like to thank everyone for being a part of the ThinkQuest global community: Students - For your limitless creativity and innovation, which inspires us all. Teachers - For your passion in guiding students on their quest. Partners - For your unwavering support and evangelism.
Source Codes
Welcome to the new platform of Programmer's Heaven! We apologize for the inconvenience caused, if you visited us from a broken link of the previous version. The main reason to move to a new platform is to provide more effective and collaborative experience to you all. Please feel free to experience the new platform and use its exciting features. Contact us for any issue that you need to get clarified.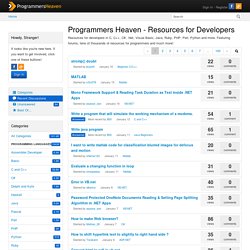 Lazarus
Pascal Game Development - Front Page
Free Pascal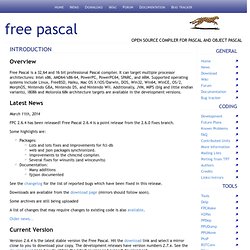 Overview Free Pascal is a 32,64 and 16 bit professional Pascal compiler. It can target multiple processor architectures: Intel x86, AMD64/x86-64, PowerPC, PowerPC64, SPARC, and ARM. Supported operating systems include Linux, FreeBSD, Haiku, Mac OS X/iOS/Darwin, DOS, Win32, Win64, WinCE, OS/2, MorphOS, Nintendo GBA, Nintendo DS, and Nintendo Wii. Additionally, JVM, MIPS (big and little endian variants), i8086 and Motorola 68k architecture targets are available in the development versions. Latest News