EdTech, Equity and Social Justice
I'm interested in discussions regarding the collision that occurs when Educational Technology meets Equity and Social Justice:

* How is "digital equity" usually defined? Who gets to define it?
* How are educational technologies used to address educational and social inequities?

* How do educational technologies contribute to these inequities?
* How can teachers, in classrooms, use technology to address equity and social justice issues?
* How can schools and school districts ensure that, when they say they are adopting technology to address "digital equity" issues, they actually are addressing educational and social equity problems? New Report: Technology Can Close Achievement Gaps and Improve Learning Outcomes for At-Risk Students. Press Release: New Report: Technology Can Close Achievement Gaps and Improve Learning Outcomes for At-Risk Students Report Identifies Key Strategies to Successful Technology Implementation WASHINGTON, DC – As school districts around the country consider investing in technology as a way to improve student outcomes, a new report from the Alliance for Excellent Education and the Stanford Center for Opportunity Policy in Education (SCOPE) finds that technology—when implemented properly—can produce significant gains in student achievement and boost engagement, particularly among students most at risk.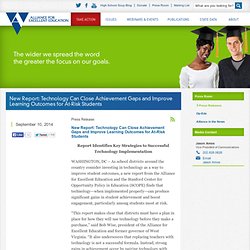 Internet Essentials℠ | 1-855-8-INTERNET (1-855-846-8376) The Root (TheRoot) How education reform drives gentrification. Stephanie Yao Long/The Oregonian/Landov Public school teachers in Portland, Ore., and their students are doing a victory lap.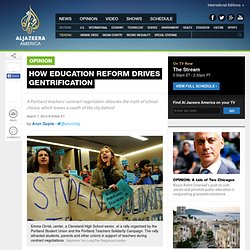 Nearly a year after unveiling a contract proposal that would have put the squeeze on the 2,900-member Portland Association of Teachers (PAT), the Portland School Board on March 3 approved a contract that acceded to virtually every demand from the teachers' union. Digital Tools Can't Magically Create Connections. Using Music to Close the Academic Gap - Lori Miller Kase. Several times a week, a group of at-risk youth in Los Angeles reports to makeshift music rooms at Alexandria Elementary School near Koreatown for lessons in violin or cello or bass—and to Saturday ensemble programs where they learn to play with bands and orchestras.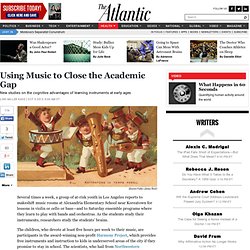 As the students study their instruments, researchers study the students' brains. The children, who devote at least five hours per week to their music, are participants in the award-winning non-profit Harmony Project, which provides free instruments and instruction to kids in underserved areas of the city if they promise to stay in school. The scientists, who hail from Northwestern University's Auditory Neuroscience Laboratory, travel from Evanston, Illinois to a satellite lab in Hollywood for a few weeks each year to examine the impact of the music lessons on the children's language and cognitive skills.
Where do people talk honestly about race? At the A.C.T.O.R. series | Teaching for Change. By Rachel Mullin A.C.T.O.R. conversation with Tony Award-winning playwright, David Henry Hwang about his play Yellow Face.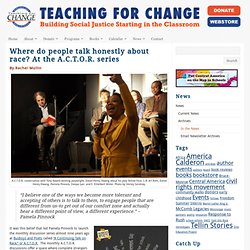 L-R: Ari Roth, David Henry Hwang, Pamela Pinnock, Deepa Iyer, and E. Ethelbert Miller. Photo by Shirley Serotsky. "I believe one of the ways we become more tolerant and accepting of others is to talk to them, to engage people that are different from us–to get out of our comfort zone and actually hear a different point of view, a different experience." – Pamela Pinnock. University School Literacy and Culture -- The Thirty Million Word Gap. In this groundbreaking study, Betty Hart and Todd Risley entered the homes of 42 families from various socio-economic backgrounds to assess the ways in which daily exchanges between a parent and child shape language and vocabulary development.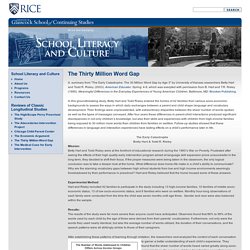 Their findings were unprecedented, with extraordinary disparities between the sheer number of words spoken as well as the types of messages conveyed. After four years these differences in parent-child interactions produced significant discrepancies in not only children's knowledge, but also their skills and experiences with children from high-income families being exposed to 30 million more words than children from families on welfare. Follow-up studies showed that these differences in language and interaction experiences have lasting effects on a child's performance later in life. Rethinking Schools Online. Become a subscriber or online account holder to read this article and hundreds more.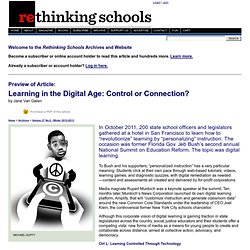 Learn more. Already a subscriber or account holder? Log in here. Learning in the Digital Age: Control or Connection? By Jane Van Galen. Self-Directed Learning: An Inner-City Perspective | UnCollegeUnCollege. By Tiffany Mikell While touring for his book, Dale Stephens stopped by the Chicago area to participate in a panel discussion on taking control of your education by following your passion.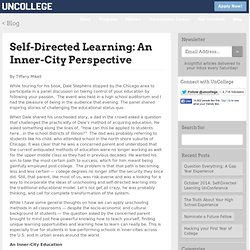 The event was held in a high school auditorium and I had the pleasure of being in the audience that evening. The panel shared inspiring stories of challenging the educational status quo. Social Inequality. A Collection Of Useful Posts, Articles & Videos On Race & Racism – Help Me Find More. Issues of race and racism are critical for us to discuss and act on in our classrooms, among the teaching profession, and in society.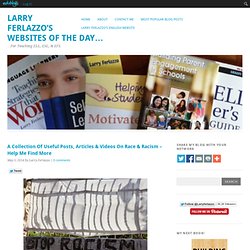 I've posted a number of useful related resources over the years, and I thought this would be a good time to bring them all together and to also invite readers to contribute more. Here are my choices, so far, for inclusion in A Collection Of Useful Posts, Articles & Videos On Race & Racism: The Best Posts, Articles & Lesson Plans On The Jordan Davis Tragedy & Verdict: Our "Classrooms Are Full Of Him" A Collection Of Useful Posts, Articles & Videos On Race & Racism – Help Me Find More. Diversity, Multicultural, Cultural Competence, & Inclusion Education Training. JUSTICE: the People's News -- Human Rights | Social Justice | Environmental Justice News.
Why whites don't see racism: Reagan Democrats are Stephen Colbert Democrats now. There is a perception gap in the electorate between blacks and non-blacks about affirmative action in college admissions and between whites and non-whites about issues of racial inequality generally.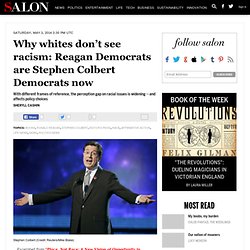 For example, a CNN survey conducted in 2009 found that 55 percent of blacks thought discrimination was a very serious problem, while only 17 percent of whites felt that way. Similarly, according to a 2009 Pew Research Center survey on race, 80 percent of blacks felt that equality has not been achieved and 43 percent of blacks thought there was still "a lot of discrimination," while only 13 percent of whites believed that there was much anti-black bias. ELL Students Neglected in School Turnaround Efforts. Policy & Research | News ELL Students Neglected in School Turnaround Efforts A new evaluation of School Improvement Grant recipients shows that even in schools with high percentages of English language learners, ELL students were poorly represented in strategic reform efforts.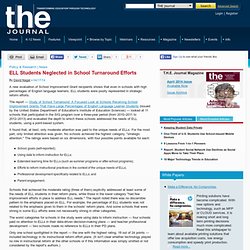 The report — Study of School Turnaround: A Focused Look at Schools Receiving School Improvement Grants That Have Large Percentages of English Language Learner Students (issued by the United States Department of Education's Institute of Education Sciences) — looked at 11 schools that participated in the SIG program over a three-year period (from 2010–2011 to 2012–2013) and evaluated the depth to which these schools addressed the needs of ELL students, using a point-based system. It found that, at best, only moderate attention was paid to the unique needs of ELLs. Poverty in America - The Living Wage Calculator.
The Living Wage Calculator is a website developed and maintained by Dr. Amy K. Glasmeier at MIT. The purpose of the Living Wage Calculator is to provide a snapshot of what it actually costs to survive in counties and cities in the United States. The Living Wage Calculator shows the differences between minimum wages and minimum living wages for each county and some cities in the U.S. The calculator accounts for eight different household scenarios from single adult to two adults and three children living in the same household. Poor Students Struggle as Class Plays a Greater Role in Success. "My Teacher Is an App" (This is a long one.) So I hope no one minds if I continue to try to document the ways in which "education" is being reframed in this country at the peril, I think, of losing everything that is best about schools and teachers and classrooms.
If you're not up to speed with these reframing efforts, the above titled article in the Wall Street Journal this morning should do the trick. The canary is singing in full throat. And let's not make any bones about it: the Journal has a vested interest in making the type of online learning it describes successful as it owns a large stake in many of the vendors trying to occupy the space. Why is digital inclusion essential? Over the last years, we have seen the usage of the Internet skyrocketing globally. As most of us take for granted our access to the Web, we usually forget that the largest part of our world is not yet connected. A quick search on the Web illustrates this easily: out of the 6.9 Billion people in the planet, 67% do NOT use the Internet regularly.
Critical Media Literacy. Broadband access in the United States is even worse than you think. Given the dismal state of broadband connections in America, it was illuminating recently to hear a major telecom executive paint a rosy picture of where the country stands. When Wall Street Journal Deputy Managing Editor Alan Murray asked how the United States ranks in broadband, Verizon CEO Ivan Seidenberg didn't hesitate: "One. Not even close. " Technology in Schools Still Subject to Digital, Income Divides. Education technology — "Edtech" — has become an area of intense innovation and debate — with topics like Massive Open Online Courses, coding for kids, and tablets constantly attracting attention and sparking debate every day.
But how are teachers and students responding to the constant influx of new digital tools? The latest Pew Research Center Internet and American Life survey of 2,500 Advanced Placement (AP) and National Writing Project (NWP) teachers from 6th to 12th grade suggests that while edtech is infiltrating classrooms, key disparities are affecting how teachers teach and how their students learn. Digital Divides Governed by Income Differences "Digital divide" describes differences in the population's access to and knowledge of digital technologies, and the Pew survey results identified a variety of factors driving the digital divide in schools. Your Guide to the Digital Divide. How Do Parents Think 'Educational' Screen Time Affects Learning? A Guide to Statistics on Historical Trends in Income Inequality. Edutopia 2014. Reclaiming the Conversation on Education. Social Justice & Technology. Connecting the Digital Divide to Digital Literacies.
New 'Digital Divide' Seen in Wasting Time Online. COLORLINES. Page 1 | How to Write about Africa | Granta 92: The View from Africa | Archive. A Simple Way to Send Poor Kids to Top Colleges. Dangerously Irrelevant. Internet Access and the New Divide. MIT Center for Civic Media | Innovating civic media tools and practices together with communities. Civic Media Lunch: Technology for Peacebuilding in Sudan and Cyprus. FCC super Wi-Fi plan: There is no plan. Tech, telecom giants take sides as FCC proposes large public WiFi networks.
There Is No FCC Plan For Free Nationwide Super WiFi, Why Won't This Story Die? Digital Divide in Mississippi Splits Along Racial Lines, Report Finds. Bringing a Nation Online-The Role of Federal Leadership fi… - bringing_a_nation.pdf. Community-Scale Broadband Solutions Are Critical | Center for Social Inclusion. National Broadband Plan Vital to Closing Digital Divide, FCC Tells Senate Committee. Advocates Urge Increased Broadband Access for Minority Communities.
Universal broadband should be about control, not just access. Student's Social-Media-Fueled Campaign Propels Him Into Office. Poverty Is Rooted In US Education System, Research Finds. 11 Facts about Education and Poverty in America. Digital Inclusion Network Home: E. The National Broadband Plan - Broadband.gov. You Can't Get There from Here. Equity and social justice from the inside-out: Ten commitments of a multicultural educator « Fedcan Blog. Poverty and Education – The Challenge of Improving Schools.
---