EdTech, Equity and Social Justice
I'm interested in discussions regarding the collision that occurs when Educational Technology meets Equity and Social Justice:

* How is "digital equity" usually defined? Who gets to define it?
* How are educational technologies used to address educational and social inequities?
* How do educational technologies contribute to these inequities?
* How can teachers, in classrooms, use technology to address equity and social justice issues?
* How can schools and school districts ensure that, when they say they are adopting technology to address "digital equity" issues, they actually are addressing educational and social equity problems? Mar 19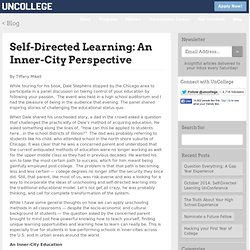 Self-Directed Learning: An Inner-City Perspective | UnCollegeUnCollege
By Tiffany Mikell While touring for his book, Dale Stephens stopped by the Chicago area to participate in a panel discussion on taking control of your education by following your passion. The event was held in a high school auditorium and I had the pleasure of being in the audience that evening. The panel shared inspiring stories of challenging the educational status quo.
Policy & Research | News ELL Students Neglected in School Turnaround Efforts A new evaluation of School Improvement Grant recipients shows that even in schools with high percentages of English language learners, ELL students were poorly represented in strategic reform efforts. The report — Study of School Turnaround: A Focused Look at Schools Receiving School Improvement Grants That Have Large Percentages of English Language Learner Students (issued by the United States Department of Education's Institute of Education Sciences) — looked at 11 schools that participated in the SIG program over a three-year period (from 2010–2011 to 2012–2013) and evaluated the depth to which these schools addressed the needs of ELL students, using a point-based system. It found that, at best, only moderate attention was paid to the unique needs of ELLs.
ELL Students Neglected in School Turnaround Efforts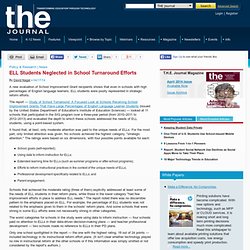 Poverty in America - The Living Wage Calculator
The Living Wage Calculator is a website developed and maintained by Dr. Amy K. Glasmeier at MIT. The purpose of the Living Wage Calculator is to provide a snapshot of what it actually costs to survive in counties and cities in the United States. The Living Wage Calculator shows the differences between minimum wages and minimum living wages for each county and some cities in the U.S. The calculator accounts for eight different household scenarios from single adult to two adults and three children living in the same household.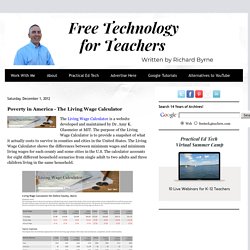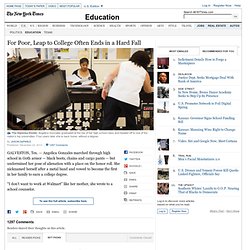 "I don't want to work at Walmart" like her mother, she wrote to a school counselor. Weekends and summers were devoted to a college-readiness program, where her best friends, Melissa O'Neal and Bianca Gonzalez, shared her drive to "get off the island" — escape the prospect of dead-end lives in luckless Galveston. Melissa, an eighth-grade valedictorian, seethed over her mother's boyfriends and drinking, and Bianca's bubbly innocence hid the trauma of her father's death.
Poor Students Struggle as Class Plays a Greater Role in Success
"My Teacher Is an App"
(This is a long one.) So I hope no one minds if I continue to try to document the ways in which "education" is being reframed in this country at the peril, I think, of losing everything that is best about schools and teachers and classrooms. If you're not up to speed with these reframing efforts, the above titled article in the Wall Street Journal this morning should do the trick. The canary is singing in full throat. And let's not make any bones about it: the Journal has a vested interest in making the type of online learning it describes successful as it owns a large stake in many of the vendors trying to occupy the space.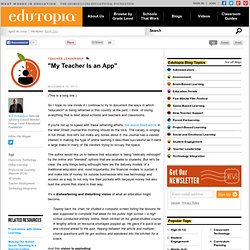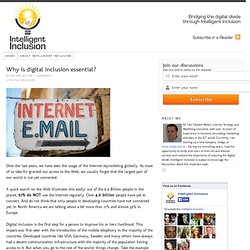 Why is digital inclusion essential?
Over the last years, we have seen the usage of the Internet skyrocketing globally. As most of us take for granted our access to the Web, we usually forget that the largest part of our world is not yet connected. A quick search on the Web illustrates this easily: out of the 6.9 Billion people in the planet, 67% do NOT use the Internet regularly.
Broadband access in the United States is even worse than you think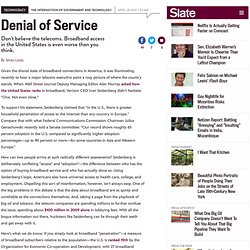 Given the dismal state of broadband connections in America, it was illuminating recently to hear a major telecom executive paint a rosy picture of where the country stands. When Wall Street Journal Deputy Managing Editor Alan Murray asked how the United States ranks in broadband, Verizon CEO Ivan Seidenberg didn't hesitate: "One. Not even close."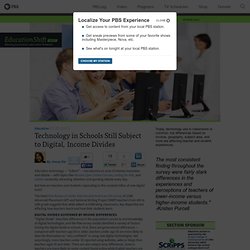 MediaShift . Technology in Schools Still Subject to Digital, Income Divides
Education technology — "Edtech" — has become an area of intense innovation and debate — with topics like Massive Open Online Courses, coding for kids, and tablets constantly attracting attention and sparking debate every day. But how are teachers and students responding to the constant influx of new digital tools? The latest Pew Research Center Internet and American Life survey of 2,500 Advanced Placement (AP) and National Writing Project (NWP) teachers from 6th to 12th grade suggests that while edtech is infiltrating classrooms, key disparities are affecting how teachers teach and how their students learn. Digital Divides Governed by Income Differences "Digital divide" describes differences in the population's access to and knowledge of digital technologies, and the Pew survey results identified a variety of factors driving the digital divide in schools.
From time to time, I'll give an overview of one broad MediaShift topic, annotated with online resources and plenty of tips. The idea is to help you understand the topic, learn the jargon, and take action. I've already covered blogging, citizen journalism and wikis. This week I'll look at the digital divide.
MediaShift . Your Guide to the Digital Divide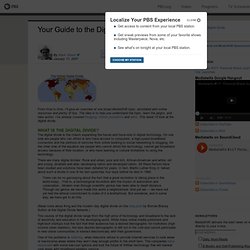 Digital Tools Demos Helsinki As media becomes more prevalent in kids' lives, parents are grappling with the potential benefits and pitfalls of screen time — what's just the right amount, what's truly educational, what's beneficial, and what's detrimental. To get a better understanding of parents' attitudes around kids' educational media, the Joan Ganz Cooney Center surveyed 1,577 parents of kids ages 2 to 10 years old, including a representative group of African American and Latino parents. They defined educational media as content that's "good for a child's learning or growth, or that teaches some type of lesson, such as an academic or social skill," and includes TV, DVDs, video games, books, e-readers, smartphones, tablets, and other mobile devices used at home.
How Do Parents Think 'Educational' Screen Time Affects Learning?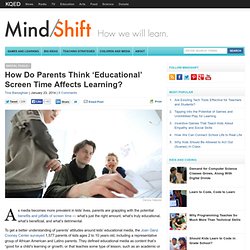 The broad facts of income inequality over the past six decades are easily summarized: The years from the end of World War II into the 1970s were ones of substantial economic growth and broadly shared prosperity. Incomes grew rapidly and at roughly the same rate up and down the income ladder, roughly doubling in inflation-adjusted terms between the late 1940s and early 1970s. The income gap between those high up the income ladder and those on the middle and lower rungs — while substantial — did not change much during this period.
A Guide to Statistics on Historical Trends in Income Inequality
Edutopia 2014
Reclaiming the Conversation on Education
Social Justice & Technology
Every day technology makes life easier for millions of people, and in doing so makes life harder for others. Adam Gopnik, in his New Yorker Article, "The Information: How the Internet Gets Inside Us," breaks down the population into three groups: Anyone who has read this blog or heard me speak would have me pegged as a Never-Better, and that is pretty close to the truth. I do think that we live in an era that rivals that of the printing press, with its subsequent explosion of literacy and education.
Connecting the Digital Divide to Digital Literacies
6.8.12 | The term "digital divide" has long been used to describe the gap between those with access to communications technology and those without—applying to both home computer ownership as well as the delivery of home broadband access, which is still an issue. In fact, though 65 percent of households (pdf) have broadband access, that figure drops to 40 percent in households with less than $20,000 in annual income. More recently, the term has referred to the gap in the type of engagement with the digital world. It has come to mean the divide between those who use technology to learn and create and those who use it more for entertainment or staying up to date on social networking sites. It might easily be summed up as the gap between creators and consumers.
New 'Digital Divide' Seen in Wasting Time Online
Drew Kelly for The New York Times Alejandro Zamora, an eighth grader, calls himself "a Facebook freak." His mother would prefer that he use the computer for homework.
Page 1 | How to Write about Africa | Granta 92: The View from Africa | Archive
This article was originally published in Granta 92. Always use the word 'Africa' or 'Darkness' or 'Safari' in your title. Subtitles may include the words 'Zanzibar', 'Masai', 'Zulu', 'Zambezi', 'Congo', 'Nile', 'Big', 'Sky', 'Shadow', 'Drum', 'Sun' or 'Bygone'. Also useful are words such as 'Guerrillas', 'Timeless', 'Primordial' and 'Tribal'.
A Simple Way to Send Poor Kids to Top Colleges
Internet Access and the New Divide
Civic Media Lunch: Technology for Peacebuilding in Sudan and Cyprus
FCC super Wi-Fi plan: There is no plan.
Tech, telecom giants take sides as FCC proposes large public WiFi networks
There Is No FCC Plan For Free Nationwide Super WiFi, Why Won't This Story Die?
Digital Divide in Mississippi Splits Along Racial Lines, Report Finds
Bringing a Nation Online-The Role of Federal Leadership fi… - bringing_a_nation.pdf
Community-Scale Broadband Solutions Are Critical | Center for Social Inclusion
National Broadband Plan Vital to Closing Digital Divide, FCC Tells Senate Committee
Advocates Urge Increased Broadband Access for Minority Communities
Universal broadband should be about control, not just access
Student's Social-Media-Fueled Campaign Propels Him Into Office
Poverty Is Rooted In US Education System, Research Finds
11 Facts about Education and Poverty in America
Digital Inclusion Network Home: E
The National Broadband Plan - Broadband.gov
You Can't Get There from Here « The Core Knowledge Blog
Equity and social justice from the inside-out: Ten commitments of a multicultural educator « Fedcan Blog
Poverty and Education – The Challenge of Improving Schools