Tech Assisted Language Learning
Free Visual Dictionary & Thesaurus | Online Dictionary | Associated Words | Synonyms Dictionary at SnappyWords.com. Cutting to the Common Core: The Positive Side of the Digital Divide. Judith Zorfass and Tracy Gray recommend using digital text to differentiate reading instruction Why Use Digital Text?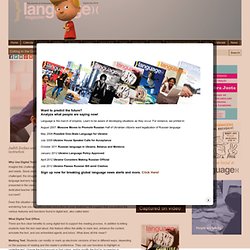 Imagine this challenge: Mr. Home - CALICO. 5 Useful iPad Apps For ESL Students. Getting the hang of a new language is tough.
As someone attempting to re-learn French, I can say this without absolute certainty. Lucky for students like myself, technology is a huge help. It makes it easier to hear a native speaker 'pronounce' something for you. It lets you Skype with people in the country whose language you're attempting to master. COERLL | Center for Open Educational Resources and Language Learning. Free Visual English Dictionary and Thesaurus | Discover meaning.
Journal. Rich Internet Applications from the Center for Language Education And Research (CLEAR) at Michigan State University. About Rich Internet Applications (RIA) The goal of the Rich Internet Applications project is to create tools that are informed by language acquisition research, and engage language learners in active learning.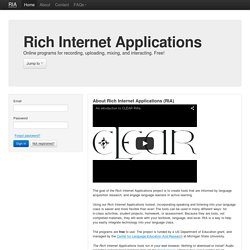 Using our Rich Internet Applications toolset, incorporating speaking and listening into your language class is easier and more flexible than ever!
---