1:1 iPad Resources
Teaching With Tablets
Stephanie Hedge is a graduate student in the Department of English at Ball State University. You can follow her on twitter at @slhedge. I love my iPad.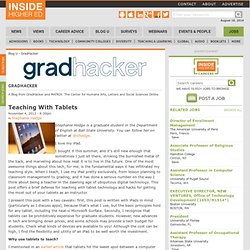 iPad Literacy Project by David W. Malone
Educreations - All about apps in YOUR classroom!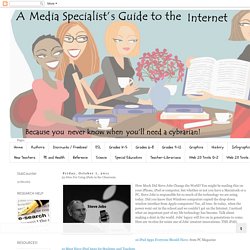 Pages - Menu This Blog Linked From Here Sites to Follow Friday, October 7, 2011 39 Sites For Using iPads in the Classroom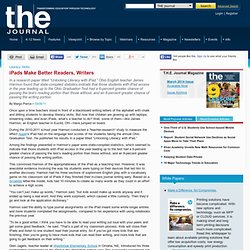 Literacy Skills iPads Make Better Readers, Writers In a research paper titled "Unlocking Literacy with iPad," Ohio English teacher James Harmon found that state-compiled statistics indicate that those students with iPad access in the year leading up to the Ohio Graduation Test had a 6-percent greater chance of passing the test's reading portion than those without, and an 8-percent greater chance of passing the writing portion. By Margo Pierce09/06/11 Once upon a time teachers stood in front of a blackboard writing letters of the alphabet with chalk and drilling students to develop literacy skills. But now that children are growing up with laptops, streaming video, and even iPads, what's a teacher to do?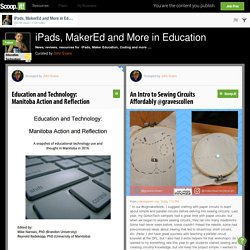 "As the maker movement in culture moves from MacGyver jokes and what Noah did when Allie left him in The Notebook to something with a bit more academic and cognitive credibility, it has also begun to creep in to the education space. As with any niche, there is specialized language–jargon–that may keep things murky for you. The 38 terms below by no means represent an exhaustive collection. (There are dozens of gadgets, circuit boards, and digital, robotic, and electrical wizardry we left on the cutting room flow.)
There are lots of useful ways the iPad can be integrated with the Stage 4 and 5 History Curriculum Depth Studies. A variety of Apps have primary source material, audio, video, maps and other resources that provide students with the opportunity to analyse and interpret and compare and contrast different viewpoints. The iTunesU App provides a range of resources and collections around various history topics for eg:Australian Aboriginal History by La Trobe UniversityExploring History: Medieval to Modern by The Open UniversityAustralian History by LaTrobe University Following are more specific Apps that could be useful for the different depth studies: Apps for The Mediterannean World (Depth Study 2): Virtual History Roma App (paid) Students can do a virtual tour of Ancient Rome via this App.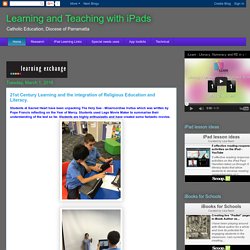 iPad Educational Resources
i Rate This It's time to bring you more information on some fantastic iPad resource sites for education.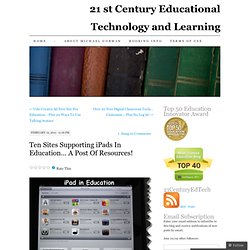 We welcome you to our wiki and blog for supporting iPod & iPad devices in education. Although our focus is K-12, many of the techniques should work for you at any level and with any number of devices. On the wiki side of this site are the deployment and management articles, and on the blog side, you will find the action research projects and classroom activities (written primarily by teachers) where iPods and iPads are supporting academic achievement for our students. Further, we have posted videos that were filmed at the end of the 2010-2011 school year that reference both our 3rd grade iPod touch and iPad 1:1 programs.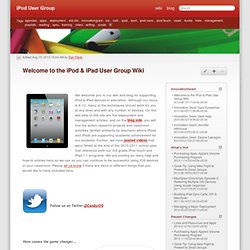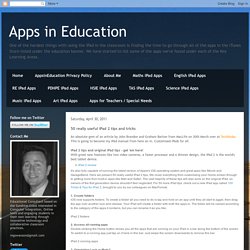 An absolute gem of an article by John Brandon and Graham Barlow from MacLife on 30th March over at TechRadar. This is going to become my iPad manual from here on in. Customised iPads for all iPad 2 tips and original iPad tips - get 'em here! With great new features like two video cameras, a faster processor and a thinner design, the iPad 2 is the world's best tablet device. iPad 2 review