1:1 iPad Resources
Www.minnetonka.k12.mn.us/ipads. In Minnetonka, we use technology as an accelerator of learning.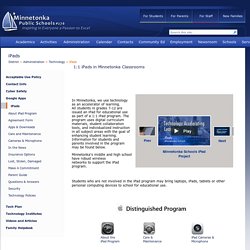 All students in grades 7-12 are issued an iPad for educational use as part of a 1:1 iPad program. The program uses digital curriculum materials, student collaboration tools, and individualized instruction in all subject areas with the goal of enhancing student learning. Information for students and parents involved in the program may be found below. Minnetonka's middle and high school have robust wireless networks to support the iPad program. 5 Awesome iPad Posters for Teachers. Are you planning to incorporate iPad into your classroom next school year ?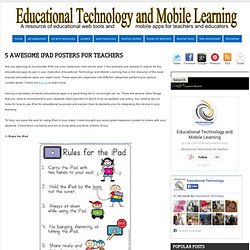 You probably are already in search for the educational apps to use in your instruction,Educational Technology and Mobile Learning has a rich resource of the most popular educational apps you might need. These apps are organized into different categories pertaining to various content areas. Check out this list to learn more. 39 Sites For Using iPads in the Classroom. Pages - Menu This Blog Linked From Here Sites to Follow Friday, October 7, 2011 39 Sites For Using iPads in the Classroom.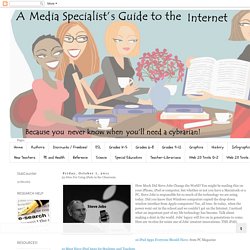 iPads in Education - Exploring the use of iPads and mobile devices in education. Only 1 iPad in the Classroom? [for additional ELA/Reading specific apps and ideas see Reading on the iPad] Is only one iPad in a classroom worth it?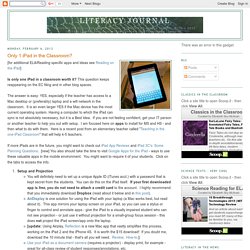 This question keeps reappearing on the EC Ning and in other blog spaces. The answer is easy: YES, especially if the teacher has access to a Mac desktop or (preferably) laptop and a wifi network in the classroom. It is an even larger YES if the Mac device has the most current operating system. Having a computer to which the iPad can sync is not absolutely necessary, but it is a Best Idea. 1:1 initiative and implementation. One to one. APPitic: Home. iPADs in the Classroom. Teaching With Tablets. Stephanie Hedge is a graduate student in the Department of English at Ball State University.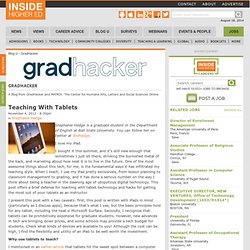 You can follow her on twitter at @slhedge. I love my iPad. iPad Literacy Project by David W. Malone. Education - Resources - Teachers and Administrators. Educreations - All about apps in YOUR classroom! iPads Make Better Readers, Writers. Literacy Skills iPads Make Better Readers, Writers In a research paper titled "Unlocking Literacy with iPad," Ohio English teacher James Harmon found that state-compiled statistics indicate that those students with iPad access in the year leading up to the Ohio Graduation Test had a 6-percent greater chance of passing the test's reading portion than those without, and an 8-percent greater chance of passing the writing portion.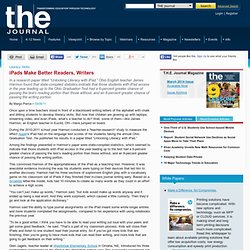 By Margo Pierce09/06/11 Once upon a time teachers stood in front of a blackboard writing letters of the alphabet with chalk and drilling students to develop literacy skills. But now that children are growing up with laptops, streaming video, and even iPads, what's a teacher to do? iPads in Education. Bloom's Apps - 21nnovate.
Learning and Teaching with iPads. iPad Educational Resources. iPads in Schools. Ten Sites Supporting iPads In Education… A Post Of Resources. It's time to bring you more information on some fantastic iPad resource sites for education.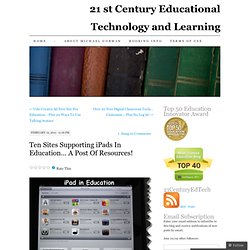 As more schools discover the power of the iPad, there seem to be more educators excited about discovering apps that engage students while making classroom learning come alive! Before presenting these ten sites please take a moment to sign up by either RSS or email to this post. Welcome to the iPod & iPad User Group Wiki. We welcome you to our wiki and blog for supporting iPod & iPad devices in education.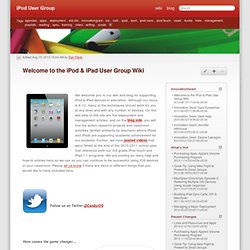 Although our focus is K-12, many of the techniques should work for you at any level and with any number of devices. On the wiki side of this site are the deployment and management articles, and on the blog side, you will find the action research projects and classroom activities (written primarily by teachers) where iPods and iPads are supporting academic achievement for our students. Further, we have posted videos that were filmed at the end of the 2010-2011 school year that reference both our 3rd grade iPod touch and iPad 1:1 programs. 50 really useful iPad 2 tips and tricks. An absolute gem of an article by John Brandon and Graham Barlow from MacLife on 30th March over at TechRadar.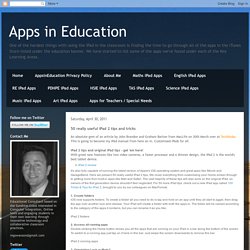 This is going to become my iPad manual from here on in. Customised iPads for all iPad 2 tips and original iPad tips - get 'em here! With great new features like two video cameras, a faster processor and a thinner design, the iPad 2 is the world's best tablet device. iPad 2 review.
Kathycasey. iPads in Schools.
---