Fan art/comic/fic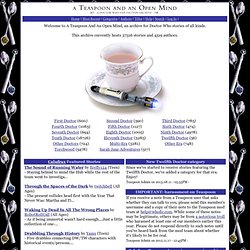 Home is where the journey begins by Inkfire (All Ages) - Home becomes an adventure of its own, their destination most unhoped for. H... They by Prochytes (Teen) - Remarkably, the Doctor was the easy one. ... Tea in the TARDIS by platoapproved (All Ages) - The Doctor and Charley make C'rizz drink a cup of tea for the first time. ... An Outrageous Amount of Running by gnossienne_nr1 (All Ages) - It's Monday.
We're a fan-created, fan-run, non-profit, non-commercial archive for transformative fanworks, like fanfiction, fanart, fan videos, and podfic. We currently have 14110 fandoms, 256344 registered users, and 964704 works. While the site is in beta, you can get an invitation from another user or from our automated invite queue. All fans and fanworks are welcome!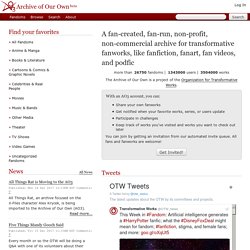 Comic Who - A new way to break into the Doctor Who universe...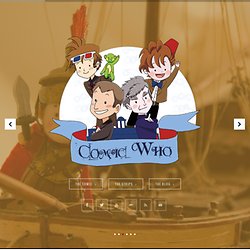 The day before the celebration we went on a trip to Cardiff. The reason is simple, the Doctor Who Experience was organizing again visits to the official TARDIS set (like they did this summer). As you may remember, we already visited the "old" TARDIS when we attended to the Doctor Who Convention back in 2012.
Rich's ComixBlog :: The Ten Doctors
The Twelfth Doctor has been officially been announced (like a month ago...) Annnnnnd its Peter Capaldi!!! Honestly I have no idea who he is and whether I like him or not BUT we should all respect Moffat's decision no matter your opinion! So... Apparently they'll change over in this years Christmas episode and there is still awhile till then so lets cherish our time with Matt! So what's your thoughts on the new Doctor?
#TARDIS-Thief on deviantART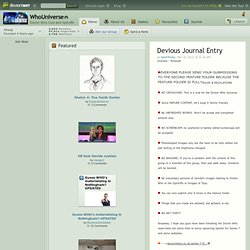 NO CROSSOVER. This is a club for the Doctor Who Universe. Some MATURE CONTENT, let's keep it family friendly No UNFINISHED WORKS. Won't be accept and completed artwork only. NO SCREENCAPS no unaltered or barely edited screencaps will be accepted.
#WhoUniverse on deviantART