Dog Training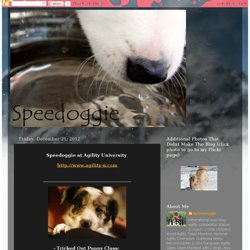 Start Date: July 2, 2012. This class repeats every 3 weeks unless otherwise noted. Instructor: Frankie Joiris If you are looking to get your dog started in agility, this class is for you! This class introduces you and your dog to all the agility obstacles. Everything you need to know to get started in agility is covered in this class.
Speedoggie... the blog
www.Speedoggie.com - Performance Dog Training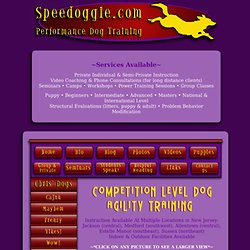 Speedoggie Performance Dog Training is proud to announce the opening of it's new agility facility in collaboration with The Green Leaf Pet Resort and Hotel located at 23 Burnt Tavern Road, Millstone Twp, NJ 08510 (www.greenleafpetresort.com) The Green Leaf Pet Resort & Hotel is located on 56 scenic acres nestled alongside a picturesque lake and blueberry farm and surrounded by an exquisite forest preserve approximately one mile off I-195 exit 16. The facility offers daycare, boarding, training, grooming and much more.
Dog Agility Training Electronic Equipment-Devices -"Touch It" , "Hit It" Board , "Move It", "Tug It", "Squiggle It"
This much talked about DVD has finally arrived! The cornerstone of Susan Garrett's amazingly successful dog training program this DVD is a must have for any new puppy owner but equally as critical for those wishing to alter the working relationship they have with their pet. Step by step instruction allows both the seasoned professional and the first time dog owner to effortlessly create extraordinary behavior in their dog with very little working space required. Featuring puppies 8 weeks to dogs 7 years old Crate Games is a unique teaching model to produce; a dog that can relax in his crate even while you work another dog, a phenomenal sit stay, focus and motivation for work, a speedy and dependable recall, distance skills for obedience or agility, self rather then imposed control, a remarkable working relationship, confidence while being proofed during any tough distraction, a dog that keenly offers responses when being shaped and much more.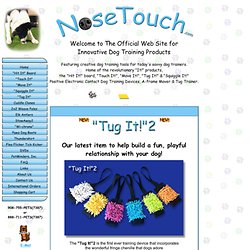 Dog Training, Dog Agility Training Links - "Touch It" & "Hit It" Board
Mighty Mite Dog Gear - Agility Tents, Trialing Equipment, Small Dog Training Books and Videos
Clean Run
All About Dog Agility | Agility Ability
TEACUP DOGS AGILITY ASSOCIATION
The Mutt Mentor - Home
The Agility Coach - Your Online Agility Instructor
UK Agility International
Welcome to UK Agility International (UKI) Hello Agility Enthusiasts! Over the last few years we have received many inquiries from agility competitors in North America about the possibility of bringing UK Agility across the pond. After six years of growing in the UK market, the time is right to make this introduction for UK Agility International(UKI). As an agility organization, what we have to offer is unique!