Map
Geo. Information Architects » Blog Archive » Web Trend Map 3: Get it! By Oliver Reichenstein It was featured by The Guardian, WIRED, Le Monde, Corriere, kottke, Boingboing, Techcrunch, Mashable, Valleywag and literally thousands of blogs.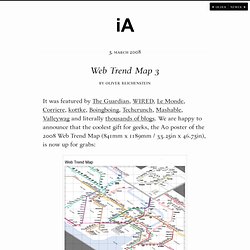 We are happy to announce that the coolest gift for geeks, the A0 poster of the 2008 Web Trend Map (841mm x 1189mm / 33.25in x 46.75in), is now up for grabs: The huge cloud lens bubble map web2.0 | || kosmar || Sleepless Night; So here it is – the big Web2.0 everything, released under Creative Commons license Attribution-ShareAlike Click to see the full size.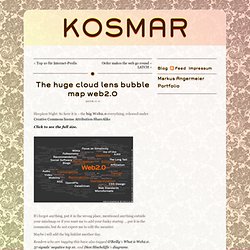 If i forgot anything, put it in the wrong place, mentioned anything outside your mindmap or if you want me to add your funky startup … put it in the comments, but do not expect me to edit the monster. Maybe i will add the big linklist another day. Readers who are tagging this have also tagged O'Reilly's What is Web2.0, 37 signals' negative top 10, and Dion Hinchcliffe's diagrams. [later next day]See it on flickr.See it on ipernitySee it on 23Digg it here.On del.icio.us.On StumbleUpon. TwitterPoster.
---