Layar
Buzz by Mariangela Petrizzo from Google Reader
Mewbox - Music you can keep and share.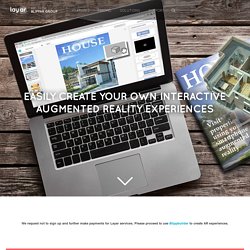 NEW: You Can Now Download Layar for Google Glass Engage with your audience and stand out from the crowd by connecting print with the online world. Learn more about interactive print The Layar Creator Over 80,000 publishers
Hasta ahora tener un sitio relacionado al BitTorrent en Rusia parecía algo bastante seguro. Pero dije hasta ahora porque se realizó lo que el primer allanamiento policial contra un tracker en el país más extenso del mundo. Esto sucedió el martes pasado y cuando la policía rusa ingresó a la oficina del tracker Interfilm arrestó a los administradores, una pareja conocida como Ripper y Nadezhda y algunos miembros del staff.
Realizan el primer allanamiento contra un tracker en Rusia