Bebo
SearchA. YouTubeAutoshare. HerbAlpert. El Cobrador del Track. Spinetta & Fito paez : Rezo por vos/ Camafeo (en vivo 1986) ¿Qué significa realmente tener muchísimos seguidores en Twitter? | Bitelia. Esta mañana, Mariano Amartino comentó en Denken Über un interesante informe llamado Measuring User Influence in Twitter: The Million Follower Fallacy, en el cual se toca un tema tan candente para muchos como lo es la cantidad de seguidores en Twitter y la relevancia (o no) que ellos nos dan.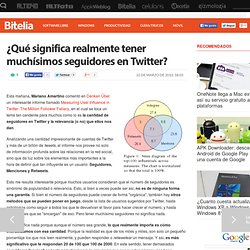 Analizando una cantidad impresionante de cuentas de Twitter y más de un billón de tweets, el informe nos provee no solo de información profunda sobre las relaciones en la red social, sino que da luz sobre los elementos más importantes a la hora de definir qué tan influyente es un usuario: Seguidores, Menciones y Retweets. Esto me resulta interesante porque muchos usuarios consideran que el número de seguidores es sinónimo de popularidad o relevancia. Esto, si bien a veces puede ser así, no es de ninguna forma una garantía. Lomography-Taller: Todas las ciudades tienen algo de Viena. Canal 13 » Sitios para localización de víctimas del terremoto. A Very Good Indian Commercial. Google Reader permite ahora escribir en Twitter, Facebook, Delicious, etc. en Blog de Uptodown.com. Muchos usuarios de Google Reader estaban pidiendo, desde hace mucho tiempo, algún tipo de conexión entre el excelente lector de feeds de Google y sus redes sociales tales como Facebook o Twitter.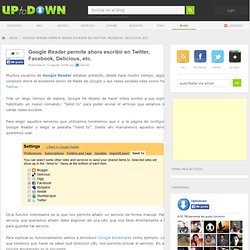 Tras un largo tiempo de espera, Google ha dejado de hacer oídos sordos a sus súplicas y ha habilitado un nuevo comando: "Send to" para poder enviar el artículo que estamos leyendo a varias redes sociales. Para elegir aquellos servicios que utilizamos tendremos que ir a la página de configuración de Google Reader y elegir la pestaña "Send to". Desde ahí marcaremos aquellos servicios que queremos usar. Otra función interesante es la que nos permite añadir un servicio de forma manual. The Fun Theory. Race another friend. With friends like these ... Tom Hodgkinson on the politics of the people behind Facebook | Technology. The following correction was printed in the Guardian's Corrections and clarifications column, Wednesday January 16 2008 The US intelligence community's enthusiasm for hi-tech innovation after 9/11 and the creation of In-Q-Tel, its venture capital fund, in 1999 were anachronistically linked in the article below.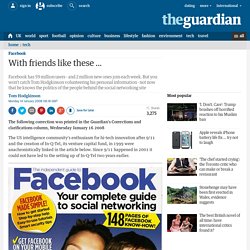 Since 9/11 happened in 2001 it could not have led to the setting up of In-Q-Tel two years earlier. Statistics. Facebook Member Stats - An Update « Travels With My Overnight Bag. A number of people have pointed out to me that it is actually possible to not select your gender on Facebook (something I was unaware of I must admit).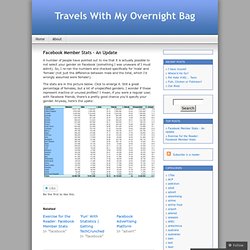 So, I re-ran the numbers and checked specifically for 'male' and 'female' (not just the difference between male and the total, which I'd wrongly assumed were female!). The stats are in the picture below. Facebook Developers. Facebook News, Application Reviews and Social Networks. "Facebook" o la Sociedad Enredada « Saber Libre. "Facebook" o la Sociedad Enredada José J.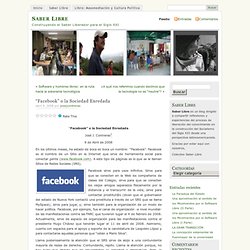 Contreras 9 de Abril de 2008. Www.02138mag.com/magazine/article/print/1724.html.
---