Apple
iBlog
NUEVA YORK.- Internet se ha transformado en una herramienta tan poderosa que en manos de las personas equivocadas, puede tener un uso inadecuado. Ya lo concluyeron expertos durante una conferencia internacional sobre terrorismo y seguridad informática, donde explicaron que Internet se ha transformado en una herramienta clave para los terroristas, ahora un nuevo informe, acota este uso a las redes sociales. Porque de acuerdo a un estudio del Centro Simon Wiesenthal, los extremistas y los grupos racistas utilizan cada vez más las redes sociales como Facebook, MySpace y YouTube como herramientas de propaganda para reclutar nuevos miembros. El informe presentado el miércoles dijo que hubo un incremento del 25 por ciento en el número de grupos "problemáticos" en las redes sociales en internet en el último año.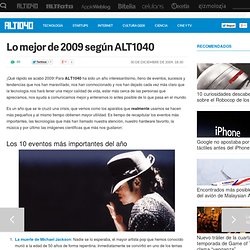 Lo mejor de 2009 según ALT1040 | ALT1040
¡Qué rápido se acabó 2009! Para ALT1040 ha sido un año interesantísimo, lleno de eventos, sucesos y tendencias que nos han maravillado, nos han conmocionado y nos han dejado cada vez más claro que la tecnología nos hará tener una mejor calidad de vida, estar más cerca de las personas que apreciamos, nos ayuda a comunicarnos mejor y enterarnos lo antes posible de lo que pasa en el mundo. Es un año que se le cruzó una crisis, que vemos como los aparatos que realmente usamos se hacen más pequeños y al mismo tiempo obtienen mayor utilidad. Es tiempo de recapitular los eventos más importantes, las tecnologías que más han llamado nuestra atención, nuestro hardware favorito, la música y por último las imágenes científicas que más nos gustaron: Los 10 eventos más importantes del año
made it easy for programmers outside the company to build 70,000 applications that made the microblogging service more usable. Without them, people would not be able to post a photo, shorten a URL, monitor several Twitter accounts at once, easily use the service from a cellphone or search for people to follow. Because of that, Twitter grew so fast that no me-too company could mount a serious challenge. People now write 50 million Twitter posts a day, up from just 2.5 million at the beginning of last year and 5,000 in 2007. The outside developers did it all at no charge because Twitter allowed them to make money from advertisers or Twitter users willing to pay for apps. These programmers — who will gather this week in San Francisco at Chirp , Twitter's inaugural developer conference — are starting to feel that life is getting a little more complicated.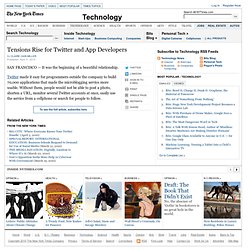 http://www.nytimes.com/2010/04/12/technology/12twitter.html?awesm=53Uoj&utm_medium=awe.sm-twitter&utm_source=direct-awe.sm&ref=technology&utm_content=site-basic
Public Knowledge Television
¿Que aún no sabes de qué hablo? Pues no seas mal pensado. No voy a hablar ni Apple ni de Google. Voy a hablar del FollowFriday .
Cómo montar un tinglado, darle bombo y cagarla (la verdadera historia del FollowFriday) | El arca de la web