Knjige
Radical Philosophy - Welcome to Radical Philosophy. Feministing | Young Feminists Blogging, Organizing, Kicking Ass - StumbleUpon. Courtney Martin: Reinventing feminism. The Fun Theory - StumbleUpon. Dropping knowledge :: The Global Dialogue Platform - StumbleUpon.
BEING THERE: EDINBURGH. To the outside world, it's a festival, a castle, a university, a tin of shortbread and a drone of bagpipes.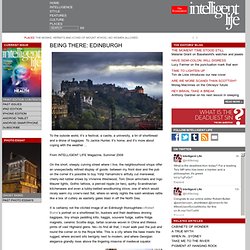 To Jackie Hunter, it's home, and it's more about coping with the weather ... From INTELLIGENT LIFE Magazine, Summer 2009 On the short, steeply curving street where I live, the neighbourhood shops offer an unexpectedly refined display of goods: between my front door and the pub on the corner it's possible to buy Yohji Yamamoto's artfully cut menswear, cherry-red rubber shoes by Vivienne Westwood, Tom Dixon armchairs and Ingo Maurer lights, Gothic tattoos, a pierced nipple (or two), quirky Scandinavian kitchenware and even a tubby-bellied woodburning stove, one of which would nicely warm my crow's-nest flat, where on windy nights the sash windows rattle like a box of cutlery as easterly gales blast in off the North Sea. Andrej Blatnik.
---