Outils
unnamed pearl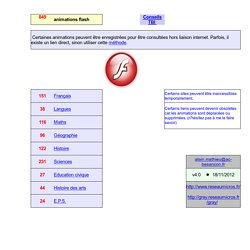 600 ressources en flash
600 Ressources en Flash pour l'école. 600 ressources éducatives en Flash sont rassemblées ici. Le Flash permet à l'aide de votre navigateur internet (Firefox, Opéra, Google Chrome, Internet Explorer, .....) de visualiser des animations multimedia. Si les animations ne fonctionnent pas c'est que vous devez installer le plugin Flash. Installer le plugin Flash Player Patient travail de collecte réalisé par Alain Mathieu : alain.mathieu@ac-besancon.fr
Scriblink - Your Online Whiteboard
Accueil - Sos-Devoirs
Inscription Vous inscrire - S'inscrire sur SOS DEVOIRS ne prendra que quelques instants. Une vidéo vous montrera les étapes si vous en avez besoin.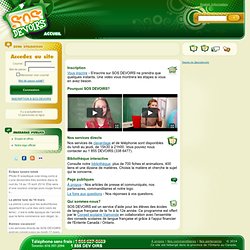 Téléphone Cyberclasses Forums Bibliothèque Vidéos
Bibliothèque virtuelle
Combien de temps avez-vous ? JigZone est un site de puzzles (casse-têtes) en ligne où vous choisissez le niveau de difficulté, du simple puzzle en 6 pièces au puzzle très complexe en 247 pièces. Divertissement quotidien Un nouveau Puzzle du jour chaque jour.
JigZone.com Puzzles casse-têtes jeux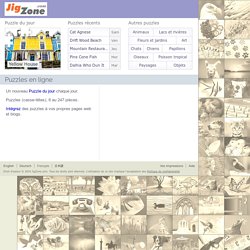 Chartle.net - interactive charts online!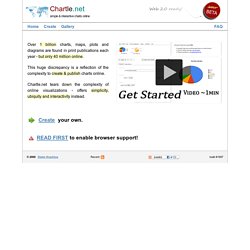 Over 1 billion charts, maps, plots and diagrams are found in print publications each year - but only 40 million online. This huge discrepancy is a reflection of the complexity to create & publish charts online. Chartle.net tears down the complexity of online visualizations - offers simplicity, ubiquity and interactivity instead. upcoming features : impressive new Ajax/Flash user interface and improved data import from Excel.
Wordle is a toy for generating "word clouds" from text that you provide. The clouds give greater prominence to words that appear more frequently in the source text. You can tweak your clouds with different fonts, layouts, and color schemes. The images you create with Wordle are yours to use however you like.
Beautiful Word Clouds