Google
Monitor. Examples. Ghent University - Technology Transfer Office. Life With TED - Micromanaging Your Carbon Footprint - O'Rei. I've been interested in having a better handle on my electrical consumption for a long time.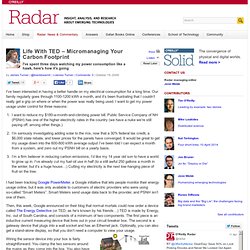 Our family regularly goes through 1100-1200 kWh a month, and it's been frustrating that I couldn't really get a grip on where or when the power was really being used. I want to get my power usage under control for three reasons: I want to reduce my $180-a-month-and-climbing power bill. Public Service Company of NH (PSNH) has one of the higher electricity rates in the country (we have a nuke we're still paying off, among other things.) Downloadpagina voor de Google Analytics Opt-out Browser Add-on. We willen websitebezoekers in staat stellen te voorkomen dat hun gegevens worden verzameld en gebruikt door Google Analytics.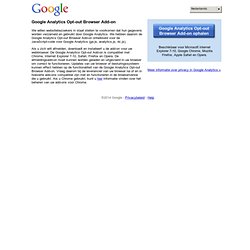 We hebben daarom de Google Analytics Opt-out Browser Add-on ontwikkeld voor de JavaScript-code voor Google Analytics (ga.js, analytics.js, dc.js). Als u zich wilt afmelden, downloadt en installeert u de add-on voor uw webbrowser. De Google Analytics Opt-out Add-on is compatibel met Chrome, Internet Explorer 7-10, Safari, Firefox en Opera. De afmeldingsadd-on moet kunnen worden geladen en uitgevoerd in uw browser om correct te functioneren. Millions of Buzz users, and improvements based on your feedback. Posted by Todd Jackson, Product Manager, Gmail and Google Buzz It's been just two days since we first launched Google Buzz.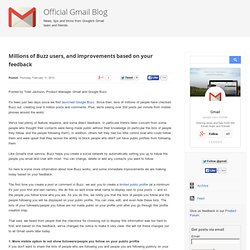 Since then, tens of millions of people have checked Buzz out, creating over 9 million posts and comments. Plus, we're seeing over 200 posts per minute from mobile phones around the world. Search for "me" on Google. It's no secret that from time to time many of us have searched on Google for our name or someone else's.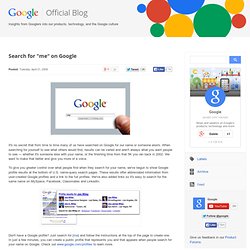 When searching for yourself to see what others would find, results can be varied and aren't always what you want people to see — whether it's someone else with your name, or the finishing time from that 5K you ran back in 2002. We want to make that better and give you more of a voice. To give you greater control over what people find when they search for your name, we've begun to show Google profile results at the bottom of U.S. name-query search pages. Profiles : About profiles - Accounts Help.
---